Nokia Bicycle Charger Kit Promises Eco-Power Later In 2010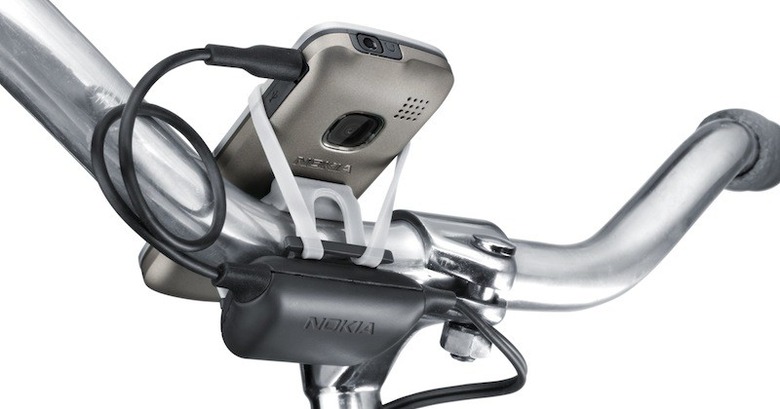 It's not just four new affordable phones that Nokia have for developing countries today; the company have also been thinking about how you might want to charge them if your power supply isn't exactly reliable.  Enter the Nokia Bicycle Charger Kit, which straps to your push-bike and uses a dynamo to recharge your phone via the standard 2mm Nokia power connector.
Of course, a dynamo system like this isn't new: bikes have had lights powered by your peddling for many years.  It's less common to find one for charging up your phone, however, and certainly not from the phone manufacturer themselves.
Nokia haven't revealed exactly how much the Bicycle Charger Kit will cost when it launches later in 2010, nor which countries it will be available in.  One thing to remember is that you won't be able to give people a lift on your handlebars any more: you wouldn't want them to accidentally squash your C2, after all.
Press Release:
New alternative charging solution debuts

Providing free and environmentally friendly electricity for mobile phones, the Nokia Bicycle Charger Kit consists of a charger and dynamo, as well as a holder to secure the phone to the bike. When the kit is installed, the dynamo – a small electrical generator – uses the movement of the wheels to charge the handset through the standard 2mm charging jack used in most Nokia mobile phones. Lambeek continued, "You must look at a number of things when it comes to power management – such as ensuring the phone's operating system is as power-efficient as possible. Now, with our innovative bike charger, people get even more freedom to use their Nokia without worrying about battery life. Bicycles are the most widespread means of transport in many markets around the world, so this is just one more benefit to be gained from an activity people are already doing. This is a great solution to a real challenge, whether people will use it due to limited access to electricity, or to be more environmentally responsible." The kit will be available before the end of the year in selected retailers and Nokia online and branded retail.