Nokia Asha 501 hands-on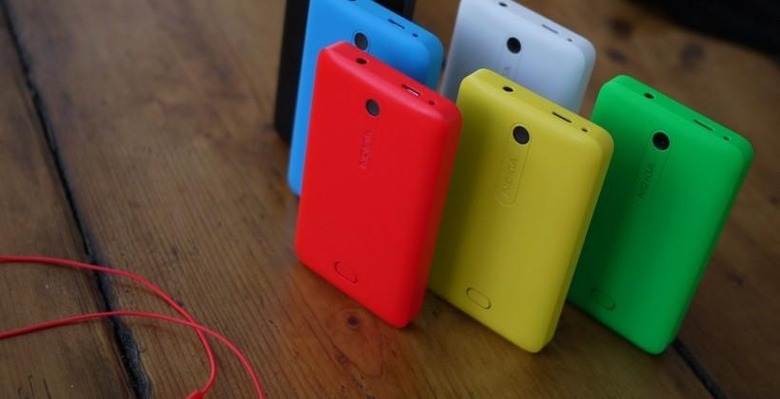 Take Nokia's estimable skills in crafting solid, affordable smartphones, a dash of MeeGo-learned interface know-how, and a motivating desperation to own the developing market, and you get this, the Nokia Asha 501. First of the new Asha Touch series, and toting an ambitious $99 (pre-tax and subsidy) sticker, the Asha 501 does what Nokia would argue only it can: distill the build quality and usability of a Lumia into something with the mass market reach of an Asha. The 501 makes its debut in India today, but SlashGear caught up with Nokia last week to find out exactly what makes it special.
Nokia isn't new to making cheap phones, nor cheap touchscreen handsets. Its previous Asha series have run the gamut from numeric keypads through QWERTY thumbboards, to full-touch, with pricing in the low double-digits even before operators have had their way with subsidies. The Asha 501, though, is of a new breed: the first to market to run the new "Asha platform" for a start, and the closest an Asha has come to not only a Lumia Windows Phone, but to Nokia's ill-fated but highly-esteemed N9.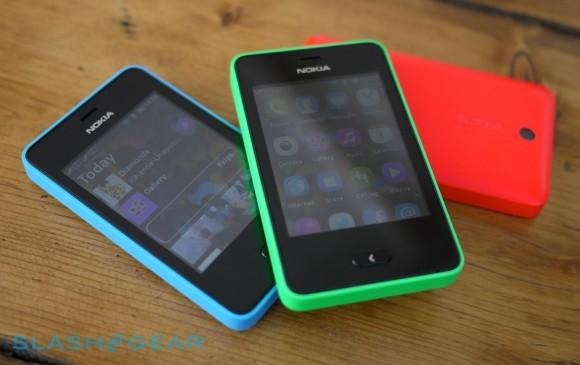 So, you get a compact, sturdy unibody plastic chassis that's worlds apart from the cheap feeling casing of previous Asha phones, and available in a choice of Lumia-esque colors – red, green, cyan, yellow, white, or black – with a slab of scratch-resistant glass up front. Just because it's a cheap phone doesn't mean it compromises on design: fit and finish of the handsets we saw felt far above the $100 price point, and the neat stylistic touches – such as the oval stud on the lower back panel, which not only allows you to remove the cover but serves as the speaker hole – leave the Asha 501 punching higher than its peers.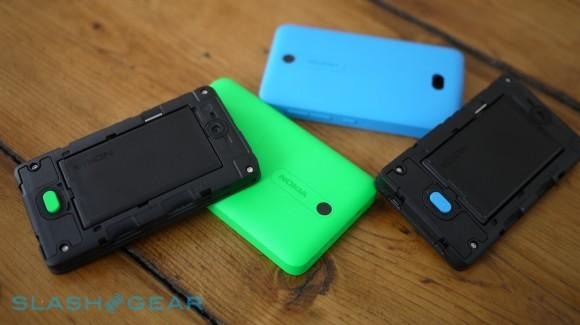 The hardware straddles the line between price and ability. Most disappointing – though understandable, given the target market – is the absence of 3G, with the Asha 501 making do with a 2G connection along with WiFi. There'll be 3G Asha touch phones in future, Nokia tells us. Both single- and dual-SIM versions of the 501 will be offered, depending on location, with the first SIM under the battery but the second hot-swappable next to it, and a microSD slot that will come preloaded with a 4GB card. Dual-SIM models will be able to switch between the two cards without demanding the phone be power-cycled.
Speaking of power, that's another string to the Asha 501's bow. Nokia is quoting a runtime of up to 48 days standby (from the single-SIM version; the dual-SIM manages up to 26 days standby) or up to 17hrs talktime, which is more than impressive for a touchscreen smartphone. There's Bluetooth inside too, along with a 3.2-megapixel camera.
Nokia Asha 501 hands-on video:
The tech is only half of the story, though; the other side is the new Asha platform. It may be built on some of the fundamentals of S40, but in practice it's a new beast almost entirely, far more reminiscent of MeeGo on 2011's N9 than anything else. We loved MeeGo and the N9, and so are glad to see that Nokia has in effect distilled much of what made them great into a device that's far more ready for the mass market.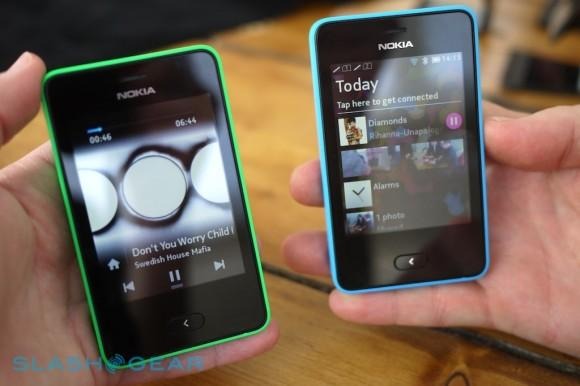 Swiping is the name of the game, with the Asha platform homescreen split into two views: the app launcher, a grid of "squircle" icons, and the Fastlane, a notification stream that tracks how you use your phone in chronological order. Apps loaded, calls and messages made or received, photos or videos taken, music played, or social networking updates posted are all listed, with the single physical control on the fascia – the back button – making multitasking between apps straightforward. Pull the Fastlane down, meanwhile, and you get a glimpse of what's round the corner, with upcoming calendar entries listed, along with single-tap updating of Facebook and/or Twitter.
The other big software addition is Nokia Xpress Now, which builds on the Xpress browser – supporting server-side compression to cut down on data costs and delays – with a dynamically customized web-based "magazine" of news content that automatically pulls in new information based on your previous reading preferences. The browser itself has been redesigned with big, easily navigable buttons from the outset, along with a merged address/search bar that can be switched between Bing, Google, and Yahoo. HERE mapping will arrive in Q3 2013, meanwhile, and pave the way for more of Nokia's custom location services to be added to the Asha platform.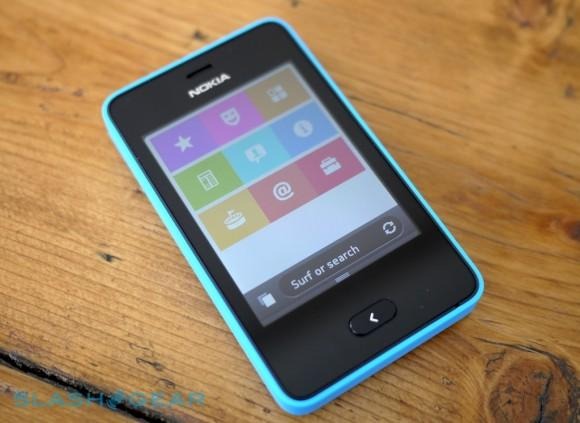 Nokia isn't handling all the apps itself, however. The Asha platform has access to a download store for third-party titles, with only a minor amount of fettling needed to get existing S40 software ready for the new OS. Nokia has carried over its deal with EA Games to offer forty free titles for all new buyers, while Facebook, Foursquare, LINE, Twitter, and more all have software ready to download. Nokia tells us it expects 90-percent of the so-called "key apps" to be available for the Asha platform within the next few months, a somewhat nebulous promise admittedly, but one which at least suggests the Finns aren't entirely focused on pushing Windows Phone.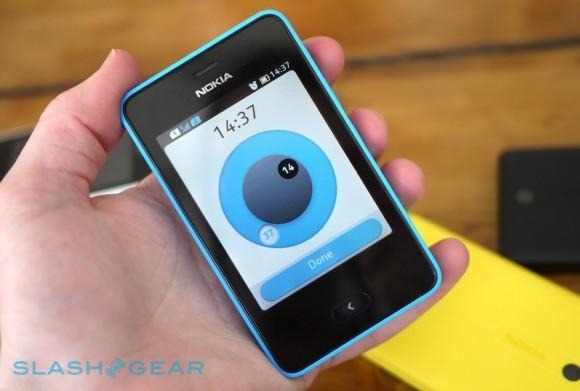 In practice, it all works surprisingly well, considering the price. At 99.2 x 58 x 12.1 mm and 98g it's a short, stubby little thing that nestles into the palm nicely; Nokia isn't talking processor speed or memory, instead expecting that the fluidity of what User Experience Design VP Peter Skillman – who also led the N9 project – tells us is a heavily optimized UI layer will speak for itself. Sure enough, we have no complaints around performance, though the LCD display has mediocre viewing angles (although we can stomach its QVGA resolution given the overall small size).
The Fastlane system quickly becomes second nature. By swiping left or right in an app you return to the homescreen – either app launcher or Fastlane, depending on what you used last – while dragging town from the top edge pulls open a notification drawer complete with toggles between the two SIMs (if supported) and shortcuts for WiFi, Bluetooth, and other settings. Pull up from the bottom edge and you find the contextual menu, helping keep the UI as clear as possible for the app itself. It leaves the software experience feeling more expansive than it actually is, aided by the use of MeeGo-esque graphics that still look crisp and clean even several years down the line.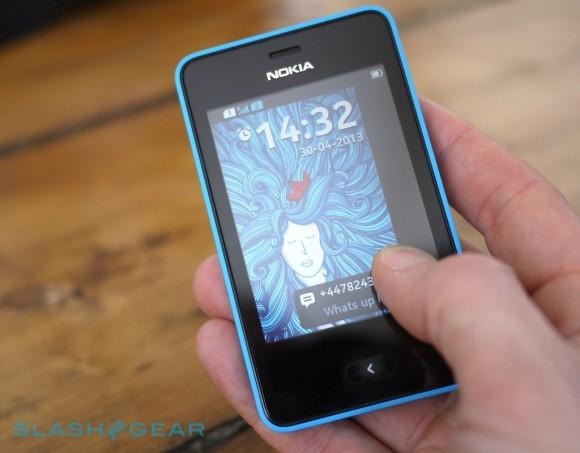 As on the N9, you tap the display to wake the phone from standby. Notifications pop up as scrollable blocks on the lockscreen, and you can either swipe generally to get to the homescreen, or swipe a notification itself to jump straight into the relevant app. Nokia has usefully added a SIM icon to show which account the notification comes from. There's also support for music playback controls when locked – along with, optionally, a dim but persistent clock always kept on-screen – and in the Fastlane; Nokia will bundle a set of bright magenta wired headphones in the box, and audio quality from them and the the Asha 501's speaker is surprisingly strong.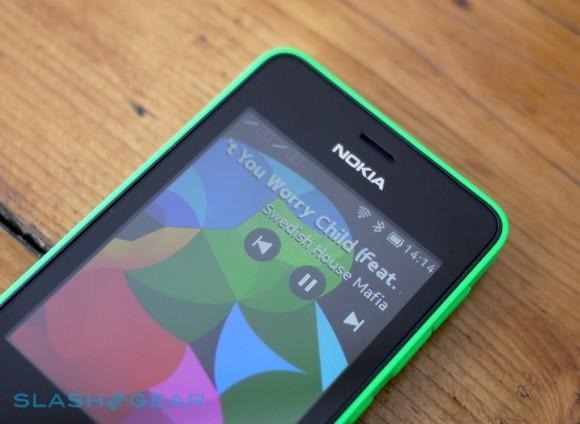 Given the affection many within Nokia had for the N9, and the frustration – inside and out of the company – at seeing the MeeGo project cancelled, we were curious as to whether Skillman felt the Asha 501 was cribbing from that OS as an homage or an insult. Letting go of MeeGo was tough, he told us, but the potential benefits from the new Asha platform, not to mention the potential audience, is considerably greater. In all, they amount to a "fit for purpose experience" he explained, which epitomizes Nokia's ambitions with MeeGo but at a price point that opens the range up in ways the N9 could never have managed. Yet, even with cost as an ever-present consideration, Nokia still had room to call the Bratislava Symphony in to record a new batch of custom ringtones, and commission artists to create the preloaded wallpapers.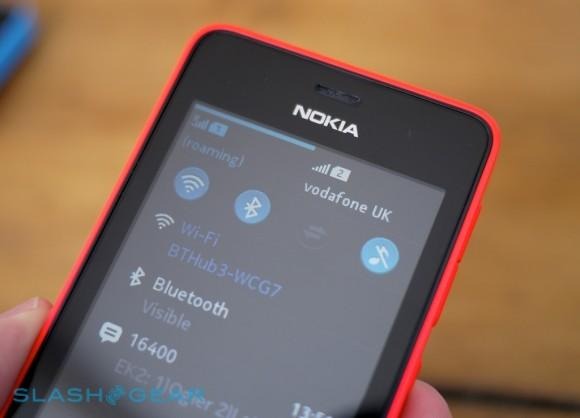 With many manufacturers, there's a tendency to compare their cheap smartphones with their higher-tier models and find them very obviously lacking. Nokia's Asha 501 somehow manages to escape that fate, even when placed next to a Lumia 820 or 920. The Windows Phone will undoubtedly be more flexible, and better specified, but the Asha gives none of the sluggish reminder with every swipe and tap that it's a far cheaper phone, unlike many rivals might. With 3G, we could see it being a hit for those wanting the web and app experience of a smartphone, only without the bulk and expense one might traditionally entail. Similarly, as a second phone – for taking away on a weekend trip free from the tyranny of a charger, or to a festival where you wouldn't risk an iPhone – it has obvious charms.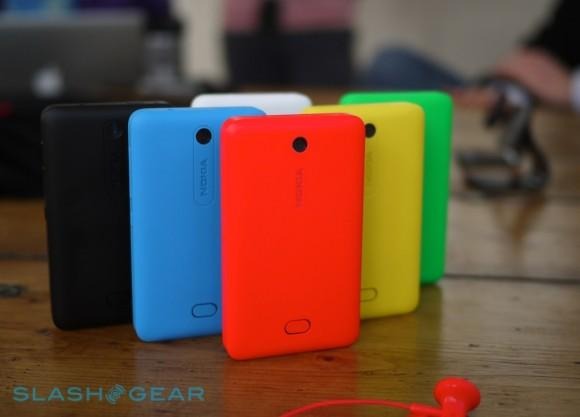 Subscribers in Africa, India, and Latin America will get the Asha 501 first, with Airtel, Telkomsel, America Movil, and MTN all confirming they'll offer the phone. Expected to begin shipping in late June 2013, it will go on sale through as many as sixty operators across 90 countries; UK sales will begin in Q3. Rival phone manufacturers, Skillman pointed out to us, have effectively given up on the low-end of the market. "We still feel we have something to offer there," he concluded.