Nokia Amber software update starts today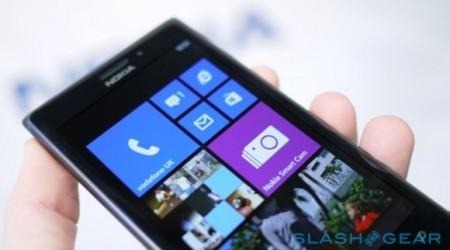 Starting today, Nokia is beginning to roll out its own update to Lumia devices working with Windows Phone 8, one that brings about a wide range of improvements to key elements inside the phones lucky enough to get it. With Amber, Nokia devices will be gaining boosts in software that build upon Microsoft's own most recent update to Windows Phone 8, this including improved image processing, the inclusion of Nokia Smart Camera (previously only on the Nokia Lumia 925 and Lumia 1020), and Nokia Glance Screen.
With Nokia Glance Screen, users will be able to ring in the past with a retro bit of clock on their screen when the display is otherwise blank (aka the display is asleep). This is similar to what a collection of "classic" Nokia phones do (we're looking at you, 808), but here you'll have expanded options. There's a battery display and a variety of customization options included.
You'll be able to flip to silence your Nokia phone after this update, as well as double-tap to unlock. Storage checking will be rolling out in a much-improved easy-to-read system of bring colors on a ring.
Nokia's Smart Camera will take full advantage of your device's built-in photo-taking abilities, be they tiny or great. On the Nokia Lumia 920, you can adjust your ISO settings between 800 and 3200 – power! The Nokia 720, 620, and 520 each will have the ability to work with burst mode like never before.
Aside from this, the Nokia Pro Camera app – previously only on the Lumia 1020, will now b available for the Lumia 920, 925, and 928. That's starting today – all the adjustments you could ever hope for!
To upgrade your Lumia device, you've only to head to Settings, find Phone Update – and bam! You're good to go! The rollout of this software update will be hitting the Lumia 920 and 820 first, then the 521, 810, and 928 (each in the USA) right on top of the first wave. Each of the following: Lumia 520, Lumia 620, Lumia 720, Lumia 820, and Lumia 920, should expect their update by the end of September at the latest – grab it!