Nokia Aeon gets suspicious Dutch listing: early April Fools likely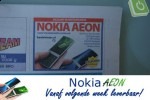 The Nokia Aeon was an obvious concept even when we first saw it, all the way back in 2006, but according to a Dutch newspaper online retailer Bestelmaar.nl will be exclusively offering the touchscreen handset from next week.  In what seems to be the run-up to an April Fools' Day prank, both green and blue versions of the handset are listed for €799 each.
Make-believe specs for the Nokia Aeon are listed as an OLED touchscreen, 32GB of onboard storage, a 12.1-megapixel camera, GPS and HSDPA.  It's also supposed to measure 114 x 48 x 9mm and weigh a mere 92g.
Right now, we're calling (early) April Fool, but we'd be quite happy to be shown wrong.  Sadly this is more likely a publicity stunt than a real launch; we'd be interested in hearing whether either the site or the free paper had permission from Nokia to use their Aeon renders.