Nokia add Broadcom to 3G chipset grab-bag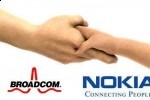 The toner is hardly crisped on the agreement between Nokia and Qualcomm to "develop advanced UMTS mobile devices, initially for North America" and already those frisky Finns are looking elsewhere to add some extra-marital spice.  In fact, Nokia have today announced that Broadcom is going to be one of their key 3G chipset suppliers.
It's all part of what Nokia are calling a "diversified, multi-supplier chipset strategy", though you and I may know it as "hedging your bets."  Nokia have already worked with Broadcom on 2G chipsets for earlier devices, so it's not an entirely surprising move; according to the press release, the 3G chipsets will be used in "low cost, high volume markets" which probably means developing markets rather than segments as served by Nseries devices.
There'll also be modem development collaboration between the two companies.  Nokia announced a high-end Nseries cameraphone, the N86 8MP, earlier today: check out our hands-on images and video demo.
Press Release:
Nokia selects Broadcom as a next generation 3G chipset supplier

Extends existing 2G baseband relationship into next generation 3G mobile devices

Espoo, Finland and Irvine, CA, USA – Nokia, the world leader in mobility, has selected Broadcom Corporation (Nasdaq: BRCM), a global leader in semiconductors for wired and wireless communications, as a next generation 3G baseband, radio frequency (RF) and mixed signal chipset system supplier for worldwide markets. The two parties will cooperate on technology, including Nokia modem technology.

"We are very pleased to have been selected by Nokia as a 3G HSPA supplier leveraging Broadcom's strengths in mixed signal, multimedia and cellular platform technologies," said Scott McGregor, Broadcom's President & Chief Executive Officer. "We look forward to developing great products and continuing to build upon our existing relationship to help Nokia realize their mission of 'Connecting People'."

"Today's announcement with Broadcom is a further example of Nokia's commitment to our diversified, multi-supplier chipset strategy," said Kai Oistamo, Executive Vice President, Devices, Nokia. "This agreement, which targets low cost, high volume markets, demonstrates that we view Broadcom as a reliable supplier to bring the benefits of 3G to Nokia customers around the world."

About Nokia

Nokia is the world leader in mobility, driving the transformation and growth of the converging Internet and communications industries. We make a wide range of mobile devices with services and software that enable people to experience music, navigation, video, television, imaging, games, business mobility and more. Developing and growing our offering of consumer Internet services, as well as our enterprise solutions and software, is a key area of focus. We also provide equipment, solutions and services for communications networks through Nokia Siemens Networks.

About Broadcom

Broadcom Corporation is a major technology innovator and global leader in semiconductors for wired and wireless communications. Broadcom products enable the delivery of voice, video, data and multimedia to and throughout the home, the office and the mobile environment. Broadcom provides the industry's broadest portfolio of state-of-the-art system-on-a-chip and software solutions to manufacturers of computing and networking equipment, digital entertainment and broadband access products, and mobile devices. These solutions support Broadcom's core mission: Connecting everything®.

Broadcom is one of the world's largest fabless semiconductor companies, with 2008 revenue of $4.66 billion, and holds over 3,100 U.S. and over 14300 foreign patents, more than 7,600 additional pending patent applications, and one of the broadest intellectual property portfolios addressing both wired and wireless transmission of voice, video, data and multimedia.

Broadcom is headquartered in Irvine, Calif., and has offices and research facilities in North America, Asia and Europe. Broadcom may be contacted at +1.949.926.5000 or at www.broadcom.com.