Nokia 7705 Twist sashays onto Verizon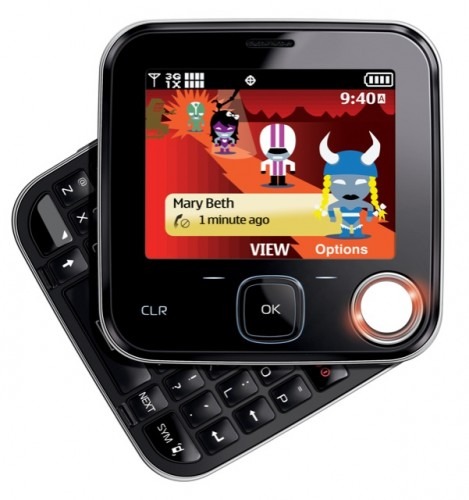 The HTC Touch Pro2 isn't the only QWERTY handset Verizon are unveiling today, but it's certainly far more traditionally-shaped than the Nokia 7705 Twist. The square device swivels open to reveal its keyboard, as well as packing a 3-megapixel camera, EVDO Rev.0 (not Rev.A), a 2.5mm headphones jack and a 2.4-inch LCD display.
There's also V CAST music with support for Rhapsody, voice command recognition and a speakerphone.  Nokia are particularly proud of their "contact light ring" which can be set to flash whenever a message or call from a particular contact comes in.
The whole thing measures 2.71 x 2.71 x 0.59 inches and weighs 3.44oz; it has Bluetooth, VZ Navigator, Visual Voicemail and threaded messaging.  It'll go on sale online from September 13th – as we heard previously – and in stores from the 21st, priced at $99.99 after a $50 mail-in rebate and with a new, two-year contract.
Press Release:
Nokia 7705 Twist(TM) puts a new twist on messaging
September 10, 2009

This fall, turn heads with Nokia's new swivel design and support victims of domestic violence

Basking Ridge, N.J. USA and White Plains, N.Y. USA – Verizon Wireless and Nokia introduce the Nokia 7705 Twist(TM), a fun phone with a unique square shape that swivels open to reveal a full QWERTY keypad. The phone's shortcut buttons provide quick access to messaging, the 3.0 megapixel camera, Web browsing, V CAST Music with Rhapsody®, voice commands, and speakerphone options. The Contact Light Ring, located in the lower right corner, can be customized to identify a message or a call from those listed in the contact directory. Customers may purchase the Nokia Twist online at www.verizonwireless.com beginning Sept. 13 and in Verizon Wireless Communications Stores on Sept. 21.

Features:

- Compatible with services including VZ NavigatorSM, V CAST Music with Rhapsody,

V CAST Video, Visual Voice Mail, Mobile Broadband Connect and Corporate Email

- Habitat mode activates a unique interface for visualizing your social circle and allows customers to easily organize their calls and messaging history

- 3.0 megapixel camera/camcorder with flash and autofocus

- Dedicated camera/video key

- Resolution adjustment: 2048 x 1536, 1280 x 960, 800 x 600, 640 x 480, 320 x 240

- Self-timer: Off, three, five, 10 seconds

- White balance: auto, sunny, cloudy, tungsten and fluorescent

- Shutter sound: Shutter, Silent, Say "Cheese," and Ready! 1 2 3

- Color effects: normal, antique, black & white, negative

- Capture mode: landscape and portrait

- Photo editing: pan and zoom, rotate

- Customized slideshow

- Video capture and playback

- Media Center-capable for downloading games, ringtones and more

- Threaded messaging helps customers keep track of a variety of conversations

- "Post to Blogs" feature allows multimedia to be posted to a blog or social networking site

- HTML browser

- Support for Mobile Email, Mobile Web Mail, Chat and Blogs

- Built-in mirror

- Supported Bluetooth® profiles include headset, hands-free, dial-up networking, stereo, phonebook access, basic printing, object push (for vCard and vCal), file transfer, and basic imaging

- 2.4-inch, 262K TFT QVGA screen

- EV-DO Rev. 0

- 2.5 mm headset jack

- Dimensions: 2.71" x 2.71" x 0.59"

- Usage time: up to 270 minutes or

- Standby time: up to 312 hours

- Weight: 3.44 ounces

Price and availability

The Nokia Twist will be available for 99.99 USD after a 50.00 USD mail-in rebate with a new two-year customer agreement. Customers will receive the rebate in the form of a debit card; upon receipt, customers may use the card as cash anywhere debit cards are accepted. Additional information about the Nokia Twist will be available at www.verizonwireless.com/twist on Friday. For additional information on Verizon Wireless products and services, visit a Verizon Wireless Communications Store, call 1-800-2 JOIN IN or go to www.verizonwireless.com.

Look good and support a good cause

From Oct. 6 through Oct. 29, while supplies last, customers who purchase the Nokia Twist online at www.verizonwireless.com will receive a free picture frame phone lanyard to raise awareness of HopeLine® and support domestic violence prevention.

Customers can donate their old phones to HopeLine, Verizon Wireless' mobile phone recycling and reuse program. Proceeds from HopeLine are used to provide wireless phones to victims of domestic violence and cash grants to non-profit advocacy organizations that promote domestic violence prevention and awareness. No-longer-used phones can be dropped off at any Verizon Wireless Communications Store. Customers can get more information on HopeLine at www.verizonwireless.com/hopeline.