Nokia 7205 Intrigue hits Verizon for $130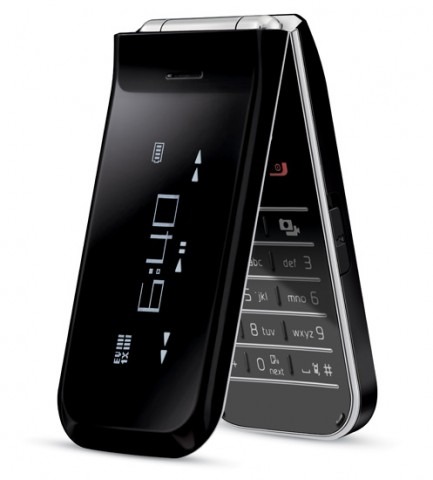 Verizon Wireless have announced the Nokia 7205 Intrigue, a slimline clamshell handset with a 2-megapixel camera, A2DP stereo Bluetooth and V CAST Music with Rhapsody support.  The 7205 Intrigue measures just 0.55-inches thick and has a hidden external display.
Other features include EV-DO Rev.A, speaker-independent voice commands, GPS, a 2.5mm headphone jack and microSD card slot.  There's also the new Habitat Mode UI, mobile email and IM support, and VZ Navigator.  The internal display is 2.2-inches 240 x 320 while the external is a 1.9-inch 176 x 32 PMOLED.
The Nokia 7205 Intrigue is available now, priced at $129.99 after a $50 online rebate.  That assumes you're willing to sign up to a new two-year agreement.  Two internal colors are available – silver-fade or pink-fade – each with a different D-pad design.
Press Release:
Step into spring with an intriguing way to keep in touch

Nokia 7205 Intrigue is packed with music and productivity features; Verizon Wireless customers can customize their contacts with Habitat mode

BASKING RIDGE, NJ, USA and WHITE PLAINS, NY, USA – Just in time for spring, Verizon Wireless and Nokia (NYSE: NOK), the world leader in mobility, today introduced the availability of the Nokia 7205 Intrigue. The sophisticated Nokia 7205 Intrigue will turn heads with its black exterior, hidden-until-lit external display, internal color keypad and support for exciting multimedia and music features. This multifunctional new Nokia device is now available on the nation's most reliable wireless network beginning today in Verizon Wireless Communications Stores and through the company's online store at www.verizonwireless.com.

The Nokia 7205 Intrigue's unique external display blends into its smooth black exterior; then when an incoming call or text is received, the display instantly illuminates. Customers can view incoming text messages, play their favorite songs from V CAST Music with Rhapsody®, or turn off the alarm clock to snooze a little longer – all from the external display. The Nokia 7205 Intrigue opens to reveal a gradient color keypad, available in silver-fade or pink-fade finishes with a different directional key for each finish.

Beyond its hip looks, the Nokia 7205 Intrigue is packed with entertainment services and productivity tools, including V CAST Music with Rhapsody and Visual Voice MailSM. V CAST Music with Rhapsody allows customers to choose from more than 5 million songs over the air, download the master copy of their songs to their PCs free of digital rights management software and sync their favorite tracks, albums and playlists from their PCs to their phones. Visual Voice Mail helps customers to prioritize their messages. The Nokia 7205 Intrigue has a microSD(TM) optional removable memory with up to 8 GB for additional storage.

The large, bright display on the Nokia 7205 Intrigue includes a nature-inspired design setting called Habitat mode, exclusively designed by Nokia and only available with Verizon Wireless service. When the Habitat mode is activated, contacts are presented in chronological order, providing an engaging and intuitive way for customers to track, visualize and connect with their contacts. Customers can also customize each contact with a photo or icon.

Additional features of the Nokia 7205 Intrigue include:

- One-touch dedicated camera/video button and a 2.0 megapixel camera with flash

- Ability to upload photos to customers' favorite social networking sites

- Bluetooth® profiles supported: headset – Headset, HFP, DUN, Stereo, PBAP, BPP, OPP

(vCard & vCal), FTP, BIP

The Nokia 7205 Intrigue also has several features that promote environmental awareness. The phone comes with a built-in reminder to alert customers to unplug the charger from the wall when their phone is fully-charged, and it ships with a low no-load charger that helps save on energy use. Furthermore, it even comes packaged in Nokia's compact packaging made from 100 percent recyclable materials.

The Nokia 7205 Intrigue is available today for USD129.99 after a USD 50.00 mail-in rebate with a new two-year customer agreement. Customers will receive the rebate in the form of a debit card; upon receipt, customers may use the card as cash anywhere debit cards are accepted. The V CAST Music with Rhapsody service is available for USD 14.99 monthly access and Visual Voice Mail is available for USD 2.99 monthly access, per line, plus airtime or megabyte charges and messaging fees, depending on a customer's plan. For more information about Verizon Wireless products and services, visit a Verizon Wireless Communications Store, call 1-800-2-JOIN IN or go to www.verizonwireless.com.