Nokia 700 hands-on [Video]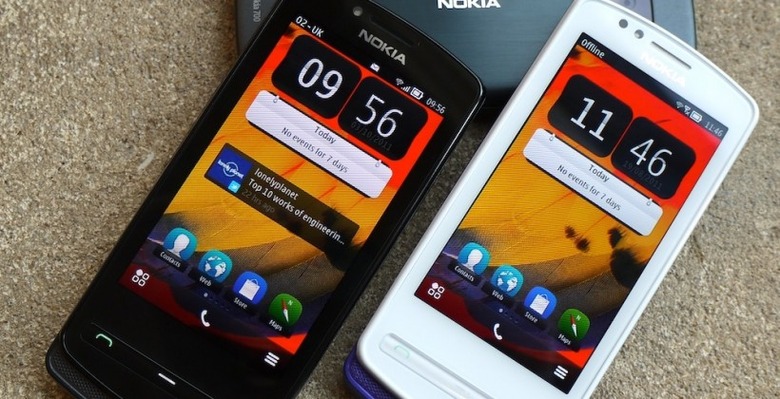 Nokia knows we're waiting for its first Windows Phones, but it has a few more slabs of Symbian to distract us with before showing off the platform it has bet the farm on. So the Nokia 700 could run the risk of slipping by the wayside, something of a shame when you consider its updated software might just be the refresh Symbian has been demanding all these years. Is the company's newest OS iteration the Belle of the ball or just a bad case of tinnitus? We caught up with the wags at Nokia to get our fondle on.
Stock photos don't do the 700's slender scale justice: Nokia says it's the smallest smartphone around, by volume, and it certainly feels more than compact in the hand. Nokia even dispatched one unlucky employee to hit the highstreet jeans retailers, checking to make sure the 700 would fit not just in front pockets but in most coin pockets too.
Happily it's a sturdy little device, with a sheet of toughened Gorilla Glass protecting the 3.2-inch AMOLED touchscreen. This uses Nokia's ClearBlack Display (CNE) technology for richer contrast and boosted colors, along with wider viewing angles. We can't argue too much with that either: the 700's graphics are smooth and jag-free, 640 x 360 resolution proving plenty at that scale, and you have to get ridiculously close to make out individual pixels. The front facing speaker – which leaves a ridge where the glass doesn't cover the entire fascia – did make us want to push the touchscreen section up as if a slider, though.
Nokia 700 hands-on:
[vms 41126d7bbd4b692ccbd9]
That, our thumbs obviously felt, should reveal a physical keypad, though Belle has the same on-screen portrait aspect QWERTY 'board as debuted in Symbian Anna. On the 700's compact panel it's a snug fit for all but the narrowest of fingers, however: enough for a one or two word IM reply but not something we'd want to peck out anything more on. Better to flip 90-degrees and use the landscape layout instead.
Nokia has continued with its premium spec push, despite the 700 being targeted at the mid-range. On the back is a 5-megapixel full focus camera with LED flash, while a VGA front-facing camera does for video calls. You get pentaband HSDPA/HSUPA, WiFi b/g/n, Bluetooth 3.0, an FM radio, GPS/A-GPS and 2GB of onboard storage with a microSD slot to augment it, along with NFC. This, as we saw with the N9, can be used to quickly pair the 700 with Nokia's NFC-enabled accessories, such as the Play 360 speaker. The company has also begun promoting NFC tags for magazines and posters, which allow you to automatically "Like" a brand on Facebook, get more information on a product or see other web links; for advertisers, the Nokia system keeps track of demographic data so that they know they're getting their money's worth.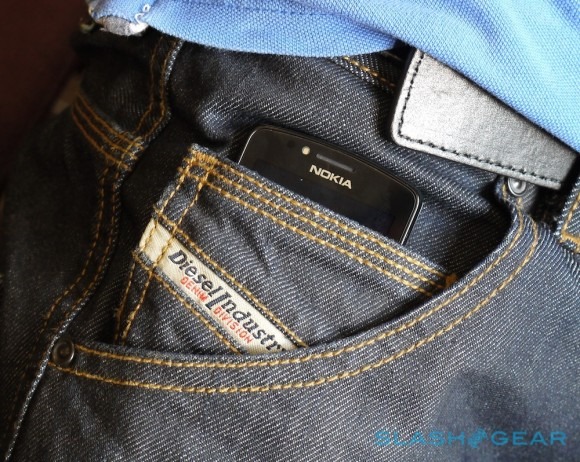 Symbian Belle is the real difference here, though, and although it's become fashionable to bash the OS in recent years, Nokia's latest version is surprisingly good. Most of the visible changes are around the homescreen: gone is the restrictive widget system where only six rectangular blocks were supported. They've been replaced by a choice of six widget sizes for developers to choose from – ranging from individual icons upward – with more flexibility in how users can place them. That, plus the Android-style pull-down notification bar, complete with shortcut buttons for mobile data, WiFi, Bluetooth and silent mode, make Symbian feel a whole lot more current.
The menu screen gets Nokia's new "squircle" iconography, keeping the task switcher and active multitasking – where apps continue to run in the background, rather than being effectively frozen as in iOS – as well as a new browser which the company says is 3x faster than what you had on the N8. There's four times the graphics memory, too, and Nokia is preloading country-level mapping data for Nokia Drive according to whichever region the 700 is being sold in. There are also special, NFC-enabled versions of Angry Birds Magic and Bounce Boing Battle, which can unlock extra levels using the short-range wireless.
Nokia's industry heft will be its biggest strength with the 700, assuming it can leverage that into low prices across networks. Set to land in the UK imminently, the handset should come in at around the Wildfire S level, the company says, despite blowing HTC's phone away on specs at least. What the Finns will need to do is persuade people to give Symbian a chance, as in Belle form there are far fewer pain-points than in previous iterations. Put simply, it feels fresher from the homescreen up, which shouldn't be underestimated when you consider how many people might be upgrading from a featurephone to their first smartphone. We'll have a full review of the Nokia 700 soon.