Nokia 6260 Slide: 3G, 5MP camera and GPS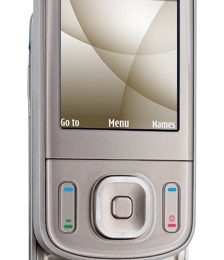 Nokia have announced their latest Series 40 cellphone, the 6260 Slide.  The focus here is on high-speed internet access, search and sharing, with search engines and "points of interest" linked straight from the home-screen, together with 3G HSDPA/HSUPA, WiFi and A-GPS. 
There's also a 5-megapixel camera with Carl Zeiss optics, autofocus and a flash.  Capable of both still images and video clips, media can quickly be uploaded via Nokia's own Share on Ovi online gallery, or by programming in your Flickr, Photobucket or other gallery account details.  The Nokia 6260 Slide is the first S40 handset to have GPS, and Nokia Maps is preloaded.
Nothing here new for smartphone addicts, but casual media junkies will likely find themselves with a sturdy, entertaining device.  Priced at €299 ($387) before taxes and subsidies, the Nokia 6260 Slide will begin shipping in January 2009.
Press Release:
Nokia 6260 slide – made for high speed sharing

Espoo, Finland – People use mobile devices to share their lives with friends and family and with this in mind, Nokia introduces the Nokia 6260 slide. The phone call is the most obvious way to use the new handset to connect with people, but it will also be used to share photographs and videos, check on a friend's social network status or be guided to a restaurant to meet up with a loved one. For this, the Nokia 6260 slide features quick access to search engines and points of interest straight from the home screen and the new 360° navi-key allows a great mobile Internet experience.

Uploading images and videos to websites, blogs and social networks is quicker than ever with Nokia's newest arrival, which features lightning-fast speeds over both cellular and Wi-Fi networks. The Nokia 6260 slide comes with the latest 3G technology, with high speed uploads (HSUPA) and downloads (HSDPA), a great camera, music player and web browser with a simple, instantly familiar interface. Combined with the range of Ovi services on offer, Nokia brings a compelling mobile Internet experience to a huge group of consumers.

A 5Mpix Carl Zeiss camera with flash takes fantastic pictures which can be easily shared and uploaded to Share on Ovi or other photo and video sharing websites. In addition to the photo, music and sharing features that come packed in the Nokia 6260 slide, Nokia Maps and the assisted GPS provide a great navigation experience. The Nokia 6260 slide brings GPS into the Series 40 software platform for the first time, really signifying navigation arriving in the mass market.

The Nokia 6260 slide is expected to begin shipping at the beginning of 2009 for an estimated retail price of EUR 299, before taxes and subsidies. Press materials and photos can be found at www.nokia.com/press.

About Nokia

Nokia is the world leader in mobility, driving the transformation and growth of the converging Internet and communications industries. We make a wide range of mobile devices with services and software that enable people to experience music, navigation, video, television, imaging, games, business mobility and more. Developing and growing our offering of consumer Internet services, as well as our enterprise solutions and software, is a key area of focus. We also provide equipment, solutions and services for communications networks through Nokia Siemens Networks.