Nokia 5800 XpressMusic 'Tube' Official: HSDPA, 16:9 Video & Touchscreen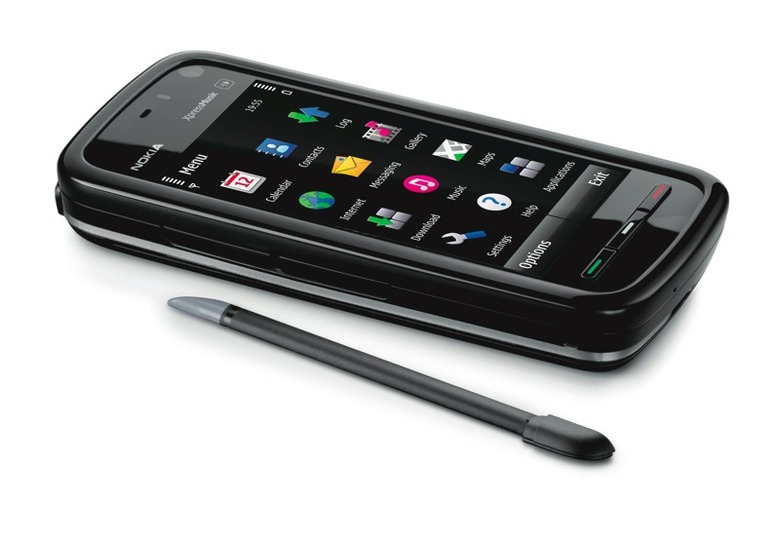 Nokia have finally officially announced the 5800 XpressMusic touchscreen cellphone, aka The Tube, and the first to run the company's S60 5th Edition with support for finger-input, higher-resolution displays and stylus control.  The 5800 uses a resistive touchscreen, measuring 3.2-inches at 640 x 360 resolution, and will be available in US HSDPA, European HSDPA and GSM-only versions.
Video demo of the Nokia 5800 XpressMusic cellphone after the cut
Other specs include a 3.2-megapixel autofocus camera with Carl Zeiss optics and dual LED flash, WiFi and Bluetooth, together with GPS.  A standard 3.5mm headphone jack and a microSD slot (that supports 16GB SDHC cards) make for a decent music phone, too; a Comes With Music version – with a year's unlimited access to the Nokia Music Store - will be released early in 2009.
Video playback and recording is available at up to 30fps in 16:9 aspect ratio, at VGA quality.  Text input can be achieved either by onscreen QWERTY keyboard or an onscreen numeric keypad with T9 predictive text, using finger, stylus or a special Nokia plectrum.  Nokia have also combined the message inbox, address book and RSS to come up with the Contacts Bar, an integrated stream of recent text messages, emails, phone logs, photos and blog updates from friends, family and colleagues.
The standard 5800 XpressMusic will begin shipping this quarter priced at €279 ($385) unlocked with an 8GB microSD card.  It'll be available in black, blue and red.
Nokia 5800 XpressMusic Demo: