Nokia 5230 gets hands-on preview: inexpensive entertainment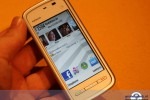 The Nokia 5230 is the Finnish firm's attempt to cash in on the success – and shape – of the 5800 XpressMusic with a more budget-minded entry-level version, and going by gsmhelpdesk's hands-on preview it sounds like they may be on to a winner.  The 5230 gets praised for its ease of use and sound quality, happily using a standard 3.5mm headphone socket rather than anything unpleasantly proprietary.
Where Nokia have saved money is in ditching WiFi and the true GPS receiver (there's still A-GPS using cell-tower triangulation), and from the photos the casing looks a little more plasticky than that of the 5800 XpressMusic.  Still, you get the same widget-based desktop and S60 5th Edition OS, which means you're still looking at what – at times – can be an awkward mixture of finger-oriented UI with stylus or D-pad minded usage.
Pricing is expected to be around €150 ($225) when the Nokia 5230 arrives in a few weeks time.  Personally we're more convinced by the Nokia X6, with its capacitive display and more solid build, but given the pricing difference the 5230 certainly fits a bargain niche.