Nokia 3720 classic rugged cellphone announced, abused on video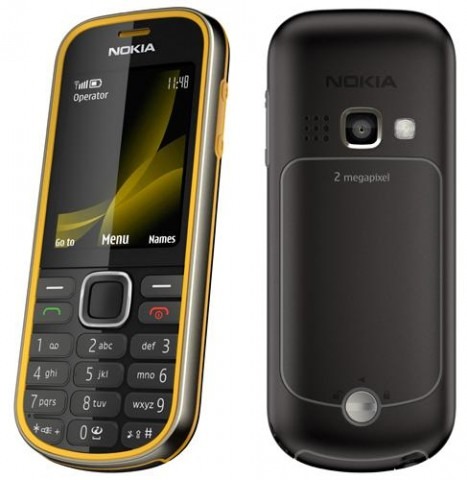 Nokia have announced a new, rugged cellphone, the 3720 classic, and to celebrate they've been kicking it around a little.  Entirely leak-proof, shock-resistant and dust-sealed, the Nokia 3720 classic still squeezes in a 2-megapixel camera, Nokia Maps (on an included 1GB microSD card) and Bluetooth 2.1.
Videos of the Nokia 3720 being mistreated after the cut
There's also a media player, FM radio, basic web browser and 20MB of onboard user memory.  The 3720 classic has a 2.2-inch QVGA display and runs Series 40; the camera has an LED flash that can also be used as a flashlight.  Battery life is estimated at up to seven hours talktime or 18 days standby, and the compartment itself is closed up via a screw-fitting plate.
It's a relatively compact device too, measuring 115 x 47 x 15.3 mm and tipping the scales at 94g; quite a pleasant surprise for a rugged device.  The Nokia 3720 classic will go on sale over the summer, priced at €125 pre subsidies and taxes ($174), and supports triband GSM 900/1800/1900MHz.
Nokia 3720 classic versus paintball gun:
Nokia 3720 classic versus swimming pool:
Nokia 3720 classic versus ladder:
Nokia 3720 classic versus golf club:
Nokia 3720 classic versus rugby boot:
Nokia 3720 classic versus pint of beer:
Nokia 3720 classic versus green jelly:
Press Release:
Handle without care: Nokia introduces the Nokia 3720 classic, its most rugged mobile handset to date

Espoo, Finland – Nokia today introduced the new Nokia 3720 classic, an IP-54 certified mobile phone designed to resist water, dust and shock. Following the footsteps of Nokia's highly popular 'rugged' devices of the past, the Nokia 3720 classic is encased in durable materials and is entirely sealed to protect the inner electronics. The Nokia 3720 is expected to retail for approximately EUR 125 before subsidies or taxes and is expected to begin shipping this summer.

"Whether using it at the beach or in a dusty construction site, the Nokia 3720 classic has been specifically engineered to withstand the splashes, bumps and drops that come with the terrain," said Markku Suomi, vice president, Connect devices. "While the Nokia 3720 classic is tough on the outside, it is equally functional on the inside – a perfect choice for people who want a long-lasting and reliable mobile phone for any environment."

The Nokia 3720 classic features a sealed, leak-proof design and durable materials in a range of colours. The battery cover, which protects both the battery and the internal circuitry of the device, is locked with a screw, making for worry-free usage in wet, dusty or muddy environments.

As to be expected, the Nokia 3720 classic also offers exceptional battery performance as well as an LED flashlight, to complement its rugged design. Additional add-ons include Nokia Maps, which comes pre-loaded on the 1 GB microSD memory card, and the large and bright 2.2" display is perfect for following the route even in unfamiliar terrain.

About Nokia

Nokia is a pioneer in mobile telecommunications and the world's leading maker of mobile devices. Today, we are connecting people in new and different ways – fusing advanced mobile technology with personalized services to enable people to stay close to what matters to them. We also provide comprehensive digital map information through NAVTEQ; and equipment, solutions and services for communications networks through Nokia Siemens Networks.