No Android 3.1 for WiFi/non-Verizon XOOM for "several weeks" [Updated]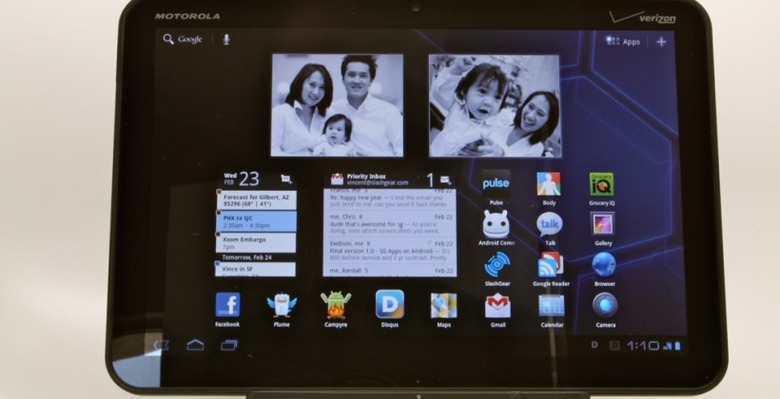 Motorola's XOOM tablet will get its Android 3.1 update this week, although only if you have the Verizon 3G version. Motorola has confirmed that the Verizon slate will start seeing the OTA update in phased release sometime in the next seven days, though if you have another carrier's version or indeed the WiFi-only XOOM, be prepared to wait longer.
In fact, Motorola says that those other owners will have to be patient for a while, with the 3.1 upgrade only expected to arrive for them "within the next several weeks." Among the changes will include access to Google's new Android Market movie rentals, resizable homescreen widgets, USB peripheral support, extra Bluetooth features and Adobe Flash Player 10.2 support.
There's a demo of the new functionality in the video below, and more details in our Google IO coverage from yesterday.
[vms 3575f29eab4bac787b91]
Update: Interestingly, despite Motorola's warnings that WiFi XOOM owners will have to wait, there are reports from owners on XDA-developers that in fact the Android 3.1 update is rolling out now. [Thanks Ben!]
[via Android Community]
Press Release:
Android 3.1 (Honeycomb) Software Update, Coming First to Motorola XOOM™, Delivers Support for Android Market Movie Rentals and Numerous Other Enhancements

Over-the-air software update rolling out this week to Motorola XOOM tablets on Verizon Wireless

Motorola XOOM users on the Verizon Wireless network will soon be able to rent movies, use a Bluetooth® headset during video chats, resize their widgets and more with an over-the-air software update for Android™ 3.1 (Honeycomb) that makes the Motorola XOOM experience even more powerful than before. The software update, coming first to Motorola XOOM and rolling out this week, delivers a wide range of new features and expanded functionality, including:

Support for the new Android Market movie rentals service with thousands of titles available for immediate viewing on the Motorola XOOM's high-resolution display or on a larger screen via HDMI

Full support for the final release of Adobe® Flash® Player 10.2, delivering significant performance enhancements when viewing rich Flash content on the web

Resizable widgets to enable further customization of home screens

Support for USB-connected peripherals and accessories, such as keyboards, mice, game controllers and digital cameras

Expanded Bluetooth features to support Bluetooth headsets in Google Talk™ video chats and Bluetooth mouse support in addition to additional shortcut keys with the Bluetooth keyboard

Picture Transfer Protocol Feature support to enable easier transfer of photo files to your PC without the need for drivers

Motorola XOOM with Wi-Fi tablets and other variants of Motorola XOOM will receive the update within the next several weeks. If users have questions or need support, they can visit www.motorola.com/myxoom or www.motorola.com/support, or get help from other owners on our online community at https://supportforums.motorola.com.

Certain features, services and applications are network dependent and may not be available in all areas; additional terms, conditions and/or charges may apply. Specific functionality and features with each software version of Android may vary. Contact your service provider for details.