Nitrox iconn+ iPhone 3G battery case hands-on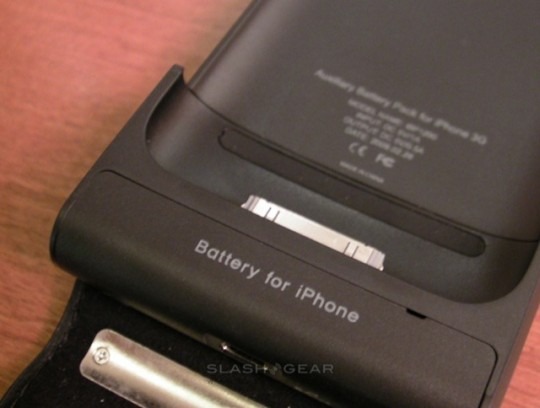 Nitrox didn't just bring along their latest Bluetooth devices for us to look at today; they also had a new leather battery-case for the iPhone 3G.  Like the Mophie Juice Pack that we rate so highly, the Nitrox iconn+ promises to roughly runtime thanks to its integrated 1,200mAh Li-Ion battery; however unlike the Mophie, the iconn+ has a flap-down leather cover that protects the smartphone's display.
The whole thing is very well put together, with soft-touch matte plastic and metal reinforcing at the edges.  Recharging is done via a mini USB connection at the bottom, which also charges up the iPhone 3G – though can't be used to sync the handset with iTunes as Mophie can, you'll need to take it out to do that – and there's a cut-out for the camera at the back.
What the Nitrox iconn+ does have over the Mophie Juice Pack is price; in the UK, it's available for pre-order at £39.50 ($65), more than £20 less than its more established rival.  We're waiting to hear back on US pricing, together with our review unit for some proper testing.