Nitrox X835 and X735 Bluetooth devices hands-on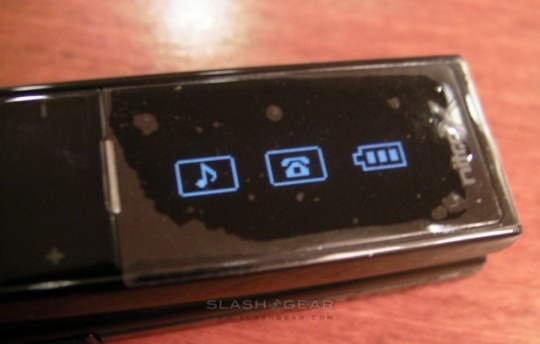 SlashGear stopped by new Bluetooth start-up Nitrox today to find out what they company had planned with their first range of cellphone accessories, the X835 car-kit and X735 stereo hands-free kit.  The X735, shown here, is already a RED DOT design winner, a compact Bluetooth clip with a monochrome OLED display, stereo A2DP support and a standard 3.5mm headphones jack.
That means you can use the X735 with either the supplied headphones or your own; there's also a microphone built into the clip, for use on calls, and the volume rocker can also skip tracks.  The display, meanwhile, shows caller ID together with guiding you through Bluetooth pairing, and can have its orientation flipped depending on which way round you choose to clip it.  The battery is good for up to 7hrs talktime, 6hrs of media streaming or 150hrs standby.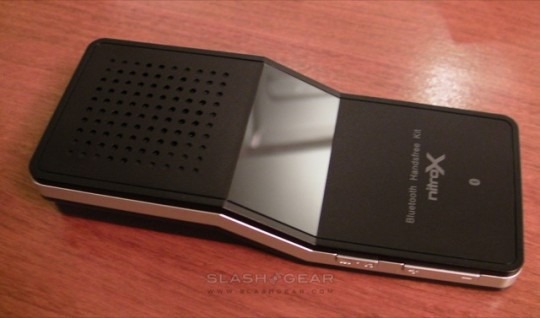 As for the Nitrox X835, that's a larger device intended to be used not only in the car but as an impromptu speakerphone.  It too has an OLED display for caller ID and the like, together with a large multi-function button, side-mounted volume controls and a hold switch for use when transporting it between car and office.  Nitrox supply a detachable metal clip to attach the X835 to your sun visor, and there's not only an accelerometer that flips the display depending on which way around the device is being used, but vibration sensors that can automatically power it up and begin the re-pairing process when it feels the car's engine has started.
Like the X735, the X835 supports the Bluetooth A2DP stereo profile, though it only has a mono speaker.  What it adds, though, is DSP and noise-reduction, using a three-microphone array.  The battery is good for up to 15hrs talktime or 400hrs standby, and like the X735 recharges via a mini USB connection.
In our brief hands-on with the pair, both seemed well put together and sturdy, and sound quality from the X735 was surprisingly good even through the standard earphones.  As is often the case, the OLED displays were bright and clear, and made setting up connections straightforward.  We'll be spending more time getting to know both devices when our review units arrive.