Nissan's hot car child alert (RDA) coming to all 4-doors by 2022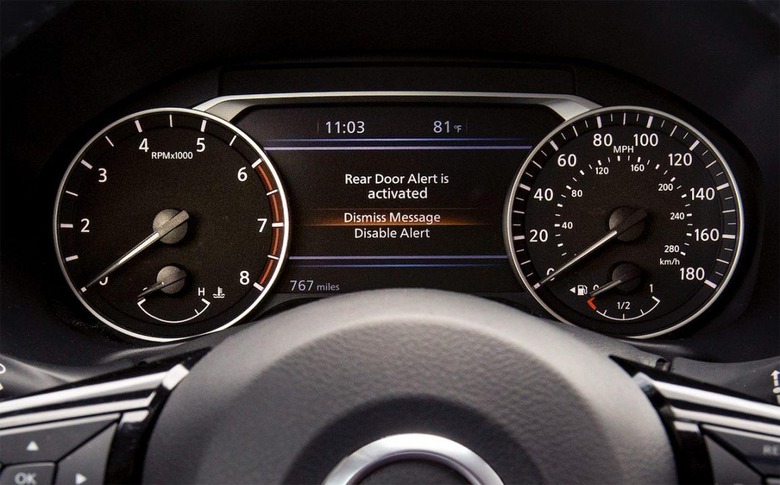 The thought of forgetting a child in a hot car should terrify any parent. Nissan's latest update to a range of new vehicles addresses just that, with Rear Door Alert. Nissan's Rear Door Alert (RDA) is the first in the industry that "uses the horn, in addition to door sensors and a message display on the center instrument panel, to remind drivers to check the back seat after the vehicle is parked." That's not a combination of alerts you grow used to and disregard.
How does this work?
In vehicles with RDA, the vehicle "monitors when the rear door is opened and closed before and after the vehicle is in motion." If the vehicle's door was opened (and closed) before the vehicle drives, but was not opened again after the vehicle stops, the vehicle will notify the driver. This alert shows once the vehicle is in park and the ignition is turned off.
The first notification is a display on the instrument panel above the driver's side wheel. This visual alert will progress then to "subtle, distinctive chirps of the horn." Basically it's like a child trying to get your attention, saying "Mom. Mom. MOM. MOMMY. MOM!" Until you get your very hot but still-alive child from your back seat, at which point the alerts stop.
RDA can be turned off temporarily or permanently on any vehicle in which the technology is installed.
Which vehicles?
The folks at Nissan responsible for this new feature suggest that starting with model year 2022, all Nissan four-door trucks, SUV, and sedan nameplates will have Rear Door Alert installed standard. The first vehicle in which Rear Door Alert came standard was the 2018 Pathfinder SUV, released last year. Next comes a range of 2019 vehicles.
Nissan plans on installing Rear Door Alert in model year 2019 Rogue and Altima vehicles – as well as a few others. "I'm proud to see Nissan lead the way by making Rear Door Alert standard on more models," said Nissan's Marlene Mendoza. "What started as a chat with my colleague, Elsa Foley, is now innovative technology being adopted in more Nissan models. It is a testament to Nissan's culture."
Mendoza is a mechanical engineer who "helped create the technology." Mendoza and Foley presented the idea for Rear Door Alert to their colleagues at Nissan and the idea was put into development at Nissan Technical Center North America (NTCNA) in Farmington Hills, Michigan.