Nissan Xmotion SUV pairs Japanese crafts and a virtual fish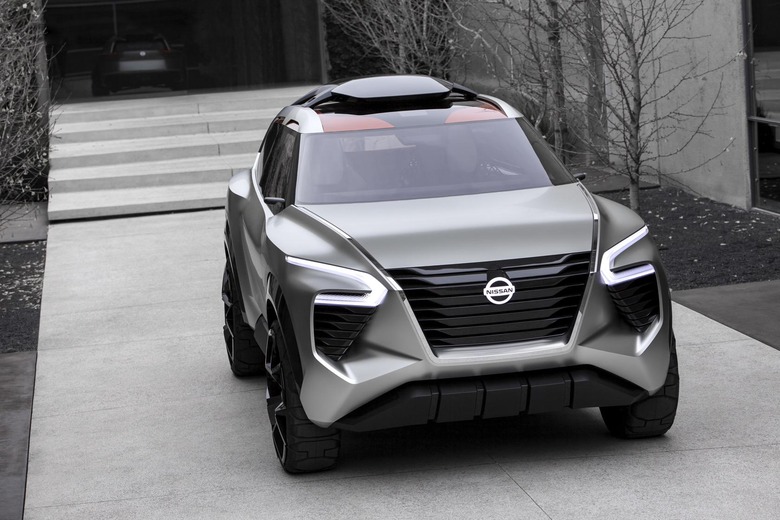 The Detroit Auto Show 2018 is shaping up to be seriously truck-dominated, and Nissan is getting in on the action with the Nissan Xmotion concept. Described as the automaker's vision of a new Nissan design direction for 2020 and beyond, the three-row SUV concept – the name of which is pronounced "cross motion," so the company insists – is intended to blend Japanese culture and craftsmanship with American utility.
"The result," Nissan says, "is a vehicle that's quiet yet dynamic, calm yet emotional, and sophisticated yet tough." The beefy exterior is clearly trying to telegraph power and strength, with U-shaped body elements that add deep surfacing atop metal-crafted wheels. They're designed to look like mechanical tools, with the tire treads physically laminated over the 21-inch aluminum-alloy wheels.
They're designed in collaboration with Michelin, and are run-flats. Not perhaps the most practical idea for a production car, no, but they do give the Xmotion a purposeful stance. At the front, the automaker's traditional V-motion grille is also modified over production cars, with a wider spread and a deeper inset. Nissan says it plans to use a similar look on production crossovers and SUVs to come.
The boomerang headlamps are intended to resemble forged steel blades. High beam, low beam, turn signals, and positioning lamps are all integrated into a single unit, the intensity and color of which adjusts according to the function it needs to play. At the rear, it's Japanese woodwork and puzzles – or kumiko – which have inspired the taillamps, which are in fact holograms to give their illusion of physical structure.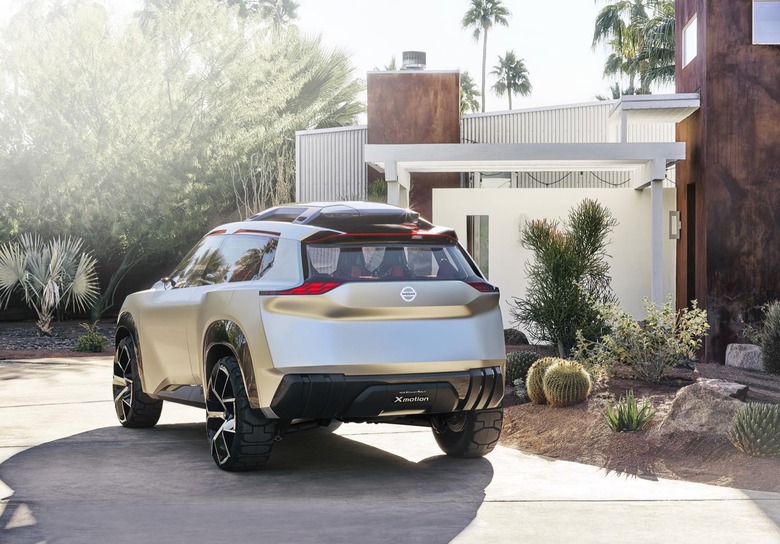 Inside, once you're through the huge doors – that pivot front and rear and have no B-pillar in-between – there's what Nissan is describing as a "4+2" layout. Three rows of side-by-side individual seats are separated by a floating central console that spans the full length of the cabin, and which is inspired by a Japanese landscape. Nissan envisages it being appreciated by a young couple bringing another young couple along for the ride, and a couple of kids or pets in the third row.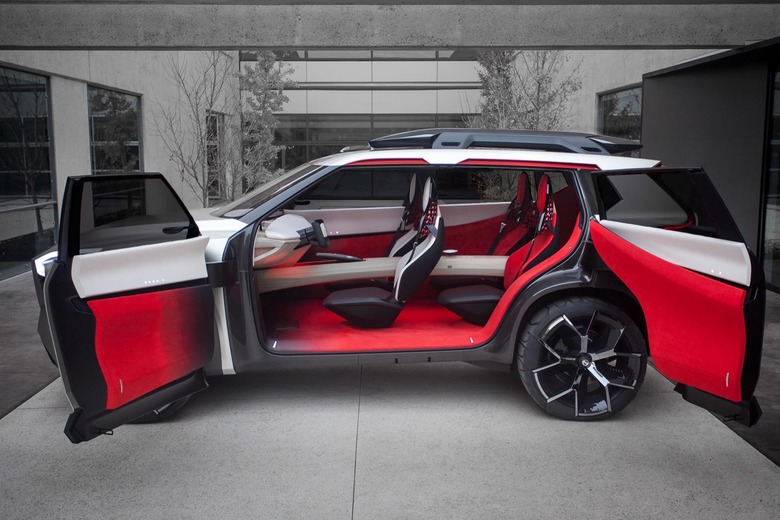 Since that's going to cut into cargo space, Nissan looks instead to the roof. The Xmotion has a retractable rooftop box, which expands to accommodate luggage then pulls back in to minimize aerodynamic impact.
Traditional Japanese crafting techniques have been something we've seen automakers like Nissan and Toyota capitalize on in recent years, and the Nissan Xmotion is no different. The interior console uses kanawa tsugi wood joinery, more commonly found in religious temples and shrines, to hold its components together without resorting to nails or glue, while the kigumi instrument panel is another modern interpretation of a classic art. Nissan wanted the whole thing to look like it was cut from a single Japanese cedar tree, but in fact used genuine wood overlays to minimize the use of natural materials.
As for the seats, they have transparent panels and scarlet red paint, echoing traditional lacquer. Open the rear doors and you can even see a hidden landscape – Mt. Fuji, in fact – at the third row. When the seats are occupied, Nissan's infotainment system automatically turns on motion-operated controls for multimedia and HVAC.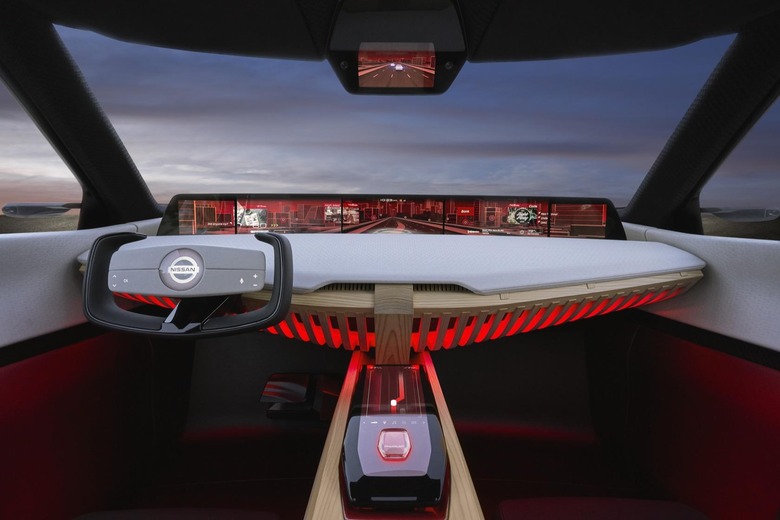 Still, for all the tradition, there's no shortage of technology. ProPILOT, Nissan's semi-autonomous driver assistance system, is onboard, as are seven screen sections which span the dashboard, replace the rear view mirror, and sit in the center console between the driver and front passenger seats. Each can be navigated by gestures, voice, and eye movement. Nissan has even come up with its own virtual assistant, a smart koi fish, which hooks into the driver's smartphone and can give information on points of interest, on the driver-assistance systems, and more. It's all unlocked – and the engine started – by fingerprint, and the external mirrors are replaced by cameras.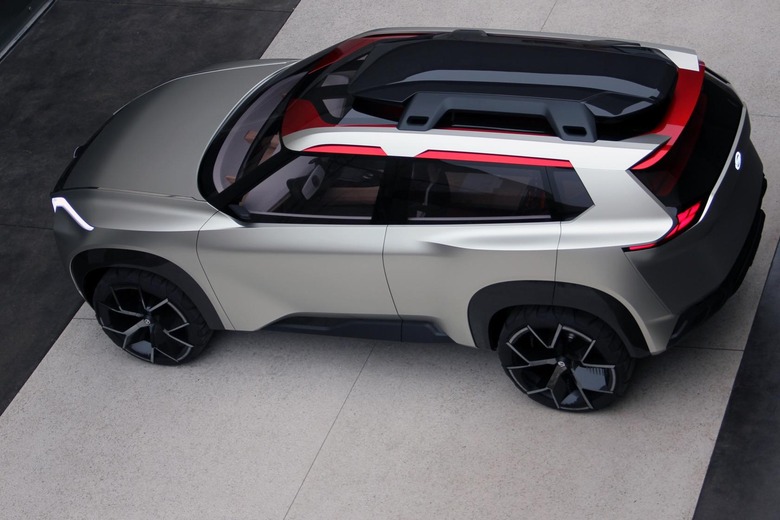 The big question, of course, is just how much of this will reach production. Certainly, Nissan is talking up the Xmotion's potential impact on the design of future SUVs, and the cabin – though unlikely to donate its more far-fetched features, like the talking fish – will probably supply some inspiration to future production cars too. In short, expect a Nissan that puts a much greater emphasis on being distinctive whether parked or on the road from 2020.