Nissan Talks Titan 5.6L Endurance V8 Gas Engine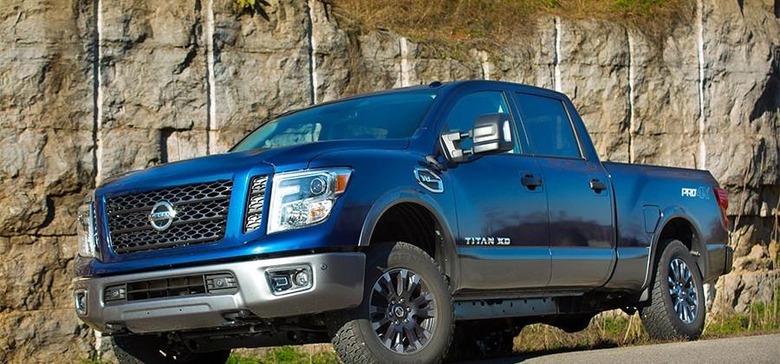 We already know that the new Nissan Titan will be getting a Cummins turbo diesel V8 option. That engine will certainly find its way under the hood of many new Titans purchased when the truck hits dealerships. That Cummins turbo diesel will be overkill for many truck buyers and they will opt for the standard gas V8 instead.
Nissan is now offering up details on that gas V8 that the majority of Titan trucks will use. The 5.6L Endurance V8 will use four valves per cylinder, variable valve event and lift, and direct injection to make 390hp at 5800 rpm and 401 lb-ft of torque at 4,000 rpm. That should mean the gas-powered Titan is no slouch when it comes to towing.
While the new V8 shares the same displacement as the previous Titan V8, that is the only similarity. The engine is much refreshed from the previous model that made only 317hp and 385 lb-ft of torque. The compression ratio for the new V8 is 11.2:1, significantly higher than the 9.8:1 used by the old V8.
Titan XD trucks that use the gas V8 will be fitted with a 7-speed automatic transmission with Adaptive Shift Control and Downshift Rev Matching. Titan trucks with the Endurance V8 and 7-speed will launch in early spring 2016 and more information will be offered then.
SOURCE: Nissan