Nissan promises self-driving cars for the masses by 2020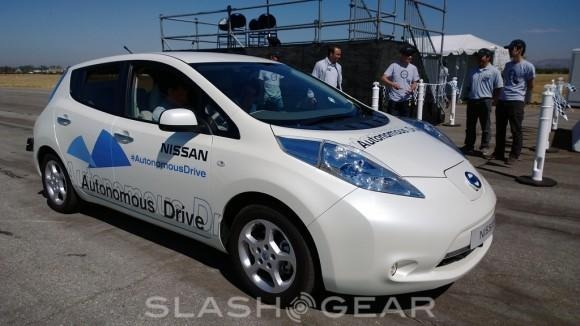 Nissan has announced that they will have self-driving cars available by the year 2020. Or more specifically, that they will have "commercially-viable Autonomous Drive in multiple vehicles by the year 2020." Nissan has detailed plans to have availability across the model range within two vehicle generations and to launch a proving ground in Japan that will be dedicated to autonomous driving.
Work on the proving ground is already in progress and Nissan has said that it will be completed by the end of (fiscal year) 2014. This will be more than just a test track and will include what is being described as real townscapes as opposed to simple mock-ups. Basically, it looks like Nissan is taking the extra steps necessary to ensure these vehicles will be safe when they arrive on actual roads with others around.
Perhaps more important for some, Nissan has also addressed the topic of price. There wasn't anything specific given, however they did say they are working to achieve this goal and have the cars available "at realistic prices for consumers." Nissan also took the opportunity to remind everyone about a previous pledge dealing with zero-emission vehicles and how these two promises connect.
"Nissan Motor Company's willingness to question conventional thinking and to drive progress – is what sets us apart," said CEO Carlos Ghosn. "In 2007 I pledged that – by 2010 – Nissan would mass market a zero-emission vehicle. Today, the Nissan LEAF is the best-selling electric vehicle in history. Now I am committing to be ready to introduce a new ground-breaking technology, Autonomous Drive, by 2020, and we are on track to realize it."
Sticking on the topic of self-driving cars, while this technology will not be available to the general public for some time now, as Nissan promised they are currently testing it. In fact, we recently spent some time driving the Nissan Leaf EV. This included the second-generation Safety Shield technology which includes some extra cameras and radar systems that track other objects on the road. A video of our drive can be seen below.
In addition to the drive time, we also spent some time talking with Carla Bailo who is president of Nissan Technical Center North America and senior vice president of NNA R&D Americas. The discussion was wide and varied and touched on topics to include how two states have already passed legislation. Those include Nevada and California and Bailo spoke about how this makes sense given the elderly community should benefit greatly here and Nevada has a large retiree community.
There was also some discussion about a fleet of vehicles that can be shared, as opposed to every individual owning their own car. Full details of that conversation can be found in the conversation post with additional Nissan content sitting in our Cars hub.