Nissan Navara truck hides an 800hp GT-R heart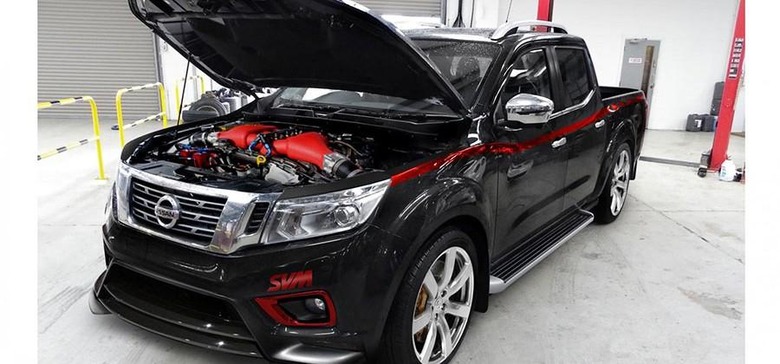 We love it when carmakers get wacky and build cars or trucks that have insane amount of power for no good reason other than they can. Such was the case last summer when Nissan rolled out the Juke-R 2.0 that packed away an engine right out of a GT-R. You could buy the Juke-R if you had the money and inclination to do so. A company called Severn Valley Motorsports in Shropshire has taken Nissan's lead and crammed the GT-R engine inside a truck.
Specifically the modified 800hp GT-R heart is tucked neatly inside a Nissan Navara truck body. The builders hope that the truck can reach a whopping 230mph top speed. I'm not sure that the truck has the aero to reach that sort of speed, but good luck on them.
This is not a project ready for sale right now, but the company will build you one to your liking if you have boatloads of cash. SVM says if you want more power you can choose up to 1500hp for your GT-R engine or just get the straight 550hp stock GT-R plant inside.
Anyone with enough scratch could order up the truck with the entire drivetrain out of a GT-R, meaning the AWD just like the Juke-R has. If you want the truck body on the chassis of a GTR, you'll need to cough up £175,000 before VAT. Taxes are high in the UK and after you'll be dropping over £200,000 on this thing. Perhaps you can figure out a commercial use for the truck bed to side step the VAT. The company offers no performance numbers other than the hope that the truck will go 230mph.
SOURCE: Top Gear