Nissan Leaf EV pre-sales kick off today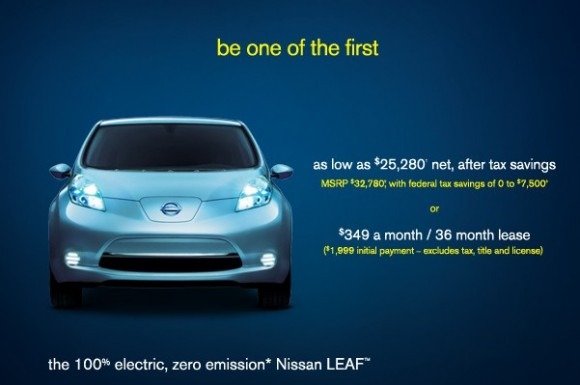 Nissan's Leaf may not be the most aesthetically pleasing all-electric car, but it's looking set to be the first one in a long time to go on sale in the US.  The company is contacting those would-be buyers in the US who signed up for more information, telling them that – as of later on today – they'll be able to put down a $99 refundable deposit to buy or lease a Leaf of their own.
Unlike hybrids, which pair electric motors with traditional gas or diesel engines, the Leaf is entirely electric and requires regular charging from an AC point; of course, the benefit is that it won't itself put out any emissions.  It's priced at $25,280 after a $7,500 federal tax credit, though certain states have other rebate plans you might be eligible for.  Leasing, meanwhile, begins at $349 per month.
Once the early reservation people have had their say, general deposits will be taken from May 15th.  The pre-order phase for the Leaf kicks off in earnest come August 2010, while the car itself isn't expected to begin rolling onto buyers' drives until December this year, with broader availability in 2011.
[via Autoblog]