Nissan Leaf CARWINGS turns driving into an eco-competition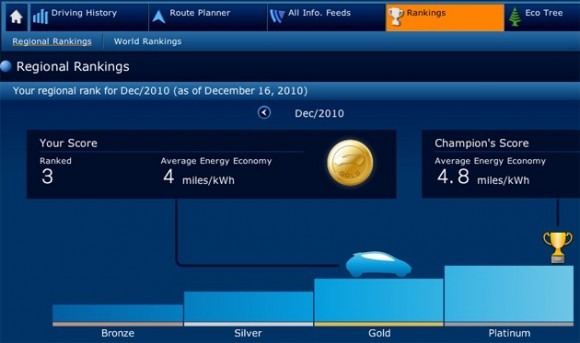 Nissan has found a way to take advantage of the competition between eco-conscious drivers to promote fuel-efficient use of its new Leaf electric vehicle. The Leaf's CARWINGS telematics system includes an app, the My Nissan Leaf forum discovered, that not only tracks individual efficiency but compares it with other Leaf drivers in the region.
So, as well as seeing how many miles you achieve per kilowatt of energy, the Leaf can also tell you how many miles your neighbours have achieved. It looks like the CARWINGS system updates the rankings every month; it's unclear what Nissan intend to do with the results, if anything, but there'd be a great PR opportunity for rewarding the more frugal drivers each time.
The eco-competitiveness factor of environmentally friendly cars was perhaps first realized in any broad sense when the Toyota Prius launched. Like the Leaf, the Prius could show energy consumption on a large LCD display in the dashboard, leading to drivers crowing about achieving the highest figures among their peers. Nissan's system, however, takes things one step further, by automating the comparisons.
[via Autoblog Green]