Nissan Intelligent Rear View Mirror debuts on 2018 Armada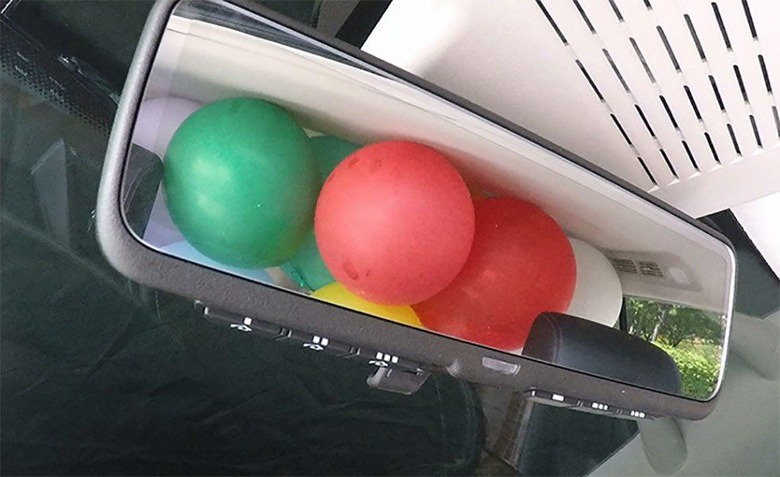 Nissan has a very cool new rear view mirror that is making its first appearance inside the 2018 Nissan Armada SUV. The feature is call the Intelligent Rear View Mirror (I-RVM) and has an integrated LCD monitor inside the traditional rearview mirror. The idea behind the new product is to make it safer for driver by allowing them to see more of what's behind the vehicle.
If there are no people or cargo in the back of the vehicle, you can use the normal rear view mirror. If there are obstructions that block your line of sight out of the Armada, drivers can change to LCD mode using a switch on the mirror. A camera view from the back of the vehicle is then sent to the mirror that eliminates any blind spots and allows the driver to see more of what is behind them.
The I-RVM will debut at Nissan dealers in September and will be an exclusive feature for the Armada Platinum SUV. Nissan also says that the special mirror improves visibility in low light and helps to reduce glare while expanding the field of view.
The camera that sends the image to the I-RVM is a narrow-angle camera that sends a 4:1 aspect ratio video feed to the LCD in the mirror. Nissan says that the system uses a narrow-angle camera and 4:1 aspect ratio rather than a conventional LCD monitor's 4:3 or 16:9 aspect ratio because when tested a wide-angle camera delivered lower resolution video.
To prevent the driver from seeing overlapping images from the rear camera and the normal reflectiveness of the mirror, Nissan uses a technology in the structure of the LCD to eliminate any potential mirror overlaps. The system reduces glare in sunrise or sunset conditions and when someone is behind the vehicle at night with bright headlights on. Nissan is working hard at beefing up the tech inside its vehicles. The 2018 Leaf EV will debut in Detroit soon packing lots of cool new tech inside.