Nissan Altima-te AWD has massively flared fenders over tank-like tracks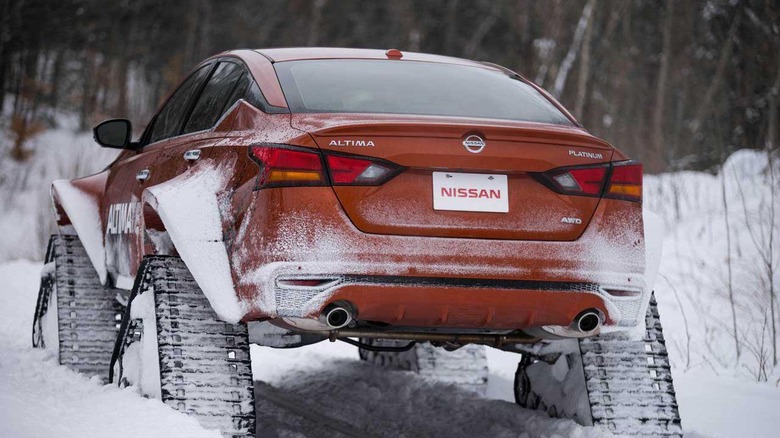 Nissan has announced a new member of the "warrior" family of vehicles that replaces wheels for tank-like treads to get around in the snow and on just about any other surface. The new ride is called the Altima-te AWD, and it will make the rounds at Canadian auto shows starting with its debut in Montreal. The most noticeable feature of the car is the massively flared fenders that are 7-inches wide in the front and rear to cover the treads.
The vehicle is based on the production 2019 Altima all-wheel-drive sedan. Nissan notes that in Canada AWD is standard on the 2019 Altima. Nissan says that this is the first sedan in North America to offer all-wheel drive.
Subaru has offered its all-wheel-drive Impreza and Legacy sedans in North America for many years now. Nissan says that the Altima-te AWD can conquer the harshest of winter weather thanks to its treads. The Altima-te comes on the heels of the Rogue Warrior that was introduced in Montreal in 2016.
The tracks used on the Altima are 48-inches long, 30-inches tall, and 15-inches wide. Nissan notes that creating the Altima-te required more exterior modification than the Rogue Warrior required. The front and rear fenders are flared out 7-inches on each side for the tracks to fit.
The total body width of the car is 14-inches wider than normal. The tracks are manufactured by Dominator and the widebody kit used on the car is bespoke. Nissan used high-density foam and epoxy resin construction for the fenders, the same materials are used in boats. The bodywork took 150 hours alone, the total Altima-te project took 250 hours to complete. Nissan says that the car is 3-inches higher than normal.