Epic Nissan Rogue Trail Warrior Swaps Wheels For Tank Tracks And Camo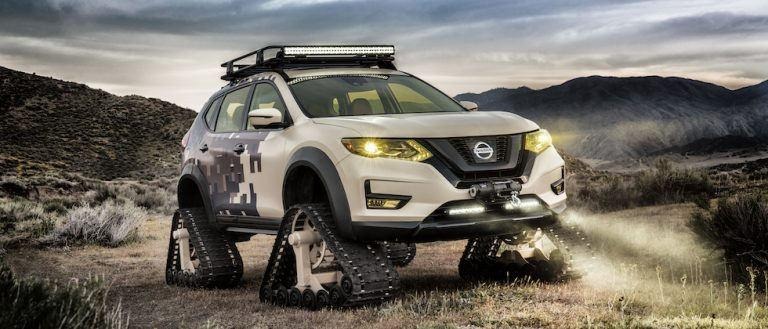 Nissan just can't resist putting tank tracks on its normal SUVs, and the latest to get the extreme off-road treatment is the 2017 Rogue Trail Warrior. Based, as you've probably guessed, on the regular Rogue crossover, the one-off car has been made especially for the 2017 New York International Auto Show, which kicks off later this week. Unfortunately, that means you can't just turn up at your local Nissan dealer and buy one yourself, at least not yet.
Instead, Nissan is using the jacked-up crossover as an excuse to talk up the versatility of the regular 2017 Rogue, which you certainly can buy. It's Nissan's best-selling model, in fact, given the ongoing enthusiasm in the crossover segment in the industry generally. Nissan is making two different customs based on the car for this year's New York show, though we'll have to wait until later in the week to see the rest.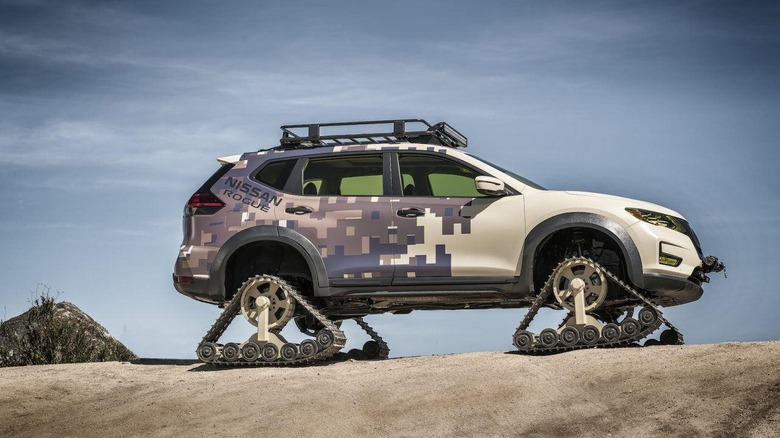 It's hard to imagine them overshadowing the Rogue Trail Warrior Project, mind. Gone are the wheels, replaced with a set of Dominator Tracks from American Track Truck, Inc. Each is 48-inches long, 30-inches high, and 15-inches wide.
They're designed for snow and sand use, turning the Rogue into not just an off-roader but a fairly unstoppable explorer. Nissan stuck with the same engine, too, the Rogue's usual 2.5-liter 16-valve inline 4-cylinder, paired with an Xtronic automatic transmission. Together, that's good for 170 horsepower and 175 lb-ft. of torque.
In fact, Nissan was able to keep a surprising amount of the stock crossover for its one-off. The suspension needed to be adjusted, of course, as did the wheel wells in order to accommodate the tracks. However, all of the other drivetrain components are the same, the automaker says.
Nissan then throws on a Warn 4K winch and LED lights, along with custom fender flares and an ARB Gear Basket. A camouflage exterior wrap finishes the whole thing up; it'd be eye-catching, too, if your eyes hadn't already been glued to the tank tracks.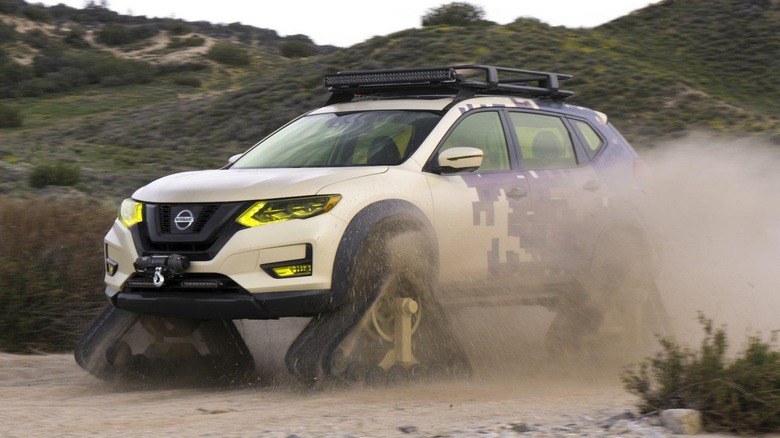 It's not the first time Nissan has gone tank track mad, mind. Back in 2015 it put them underneath the Juke Nismo RSnow, a one-off creation for an ice driving event it held in Finland. The following year, it revealed a trio of tracked SUVs – Pathfinder, Murano, and Rogue – as the "Winter Warrior" collection.
Of course, just because Nissan won't sell you a Rogue Trail Warrior, that doesn't mean you couldn't make one yourself. The American Track Truck system is available for a variety of Nissan, Subaru, Mitsubishi, and other AWD cars – in addition to pickups and SUVs – and the company says that older models with more straightforward all-wheel drive systems probably won't even need software reprogramming in order to play nicely with the wheel replacements.