Nintendo Switch Pro Controller released for sale [UPDATE: Sold Out]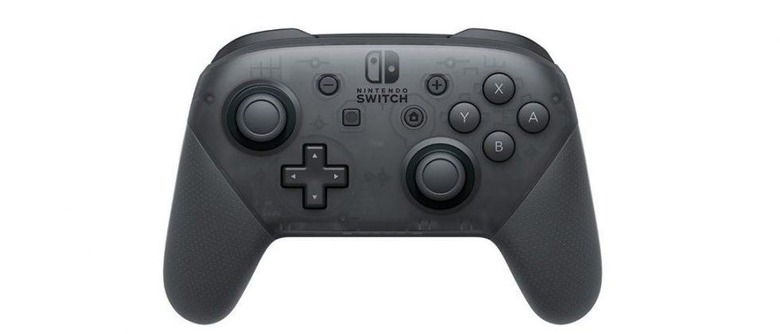 We may receive a commission on purchases made from links.
If you're not much of a fan of the Nintendo Switch's new Joy Con controllers, then the Pro Controller may be more your speed. The Switch Pro Controller went up for sale today at Amazon, lagging behind other Switch hardware, which became available for pre-order a couple of weeks back. If this is like any other kind of Switch product, though, don't expect the Pro Controller to be around for long.
Pre-orders for Nintendo Switch consoles, games, and accessories (such as extra Joy Cons) were hard to find just a few hours after they opened up. By the next day, many retail locations had sold out of their initial allotments entirely. Some items, such as The Legend of Zelda: Breath of the Wild master edition have likely sold through their entire stock, while other items will likely get a second round of pre-orders before the Switch launches.
Demand for the Switch has been so high that we probably shouldn't expect Amazon's stock of Pro Controllers to last very long. The good news, in this case, is that we still have about five weeks until the Switch arrives, giving Nintendo plenty of time to produce more. Still, if you want to make sure you get one, it's better to pre-order sooner rather than later.
The Switch and its games were given an in-depth reveal during two different live streams a couple of weeks ago. While we're still not certain about some of the Switch's internals, we have a much clearer picture of what the Joy Con controllers are capable of and what kind of titles the Switch will be getting in its first year. With games like Mario, Zelda, Splatoon, and Mario Kart all launching by the end of 2017, Nintendo is definitely looking to hit the ground running.
Like the Wii and Wii U Pro Controllers that came before it, the Switch Pro Controller is meant to be a more traditional solution for folks who may not be interested in using the packed-in Joy Cons. You'll have to pay a pretty penny for that feeling of familiarity, though, as a single Pro Controller will set you back $70.
Update: Just as we suspected, the Switch Pro Controller sold out very quickly over at Amazon. For now, the only thing the listing says is that the controller is "currently unavailable," inviting users to sign up for email alerts. We'll let you know when Amazon gets more in, or if other retailers start advertising stock of their own.
SOURCE: Amazon