Nintendo Switch Fortnite Bundle Released: Here's What You Get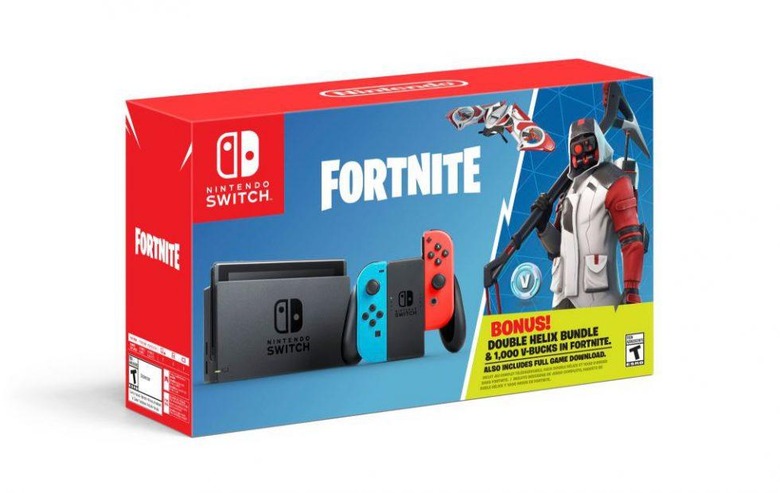 We may receive a commission on purchases made from links.
Slowly but surely, Nintendo has been announcing a number of different Switch console bundles. The company has already revealed limited edition consoles for Pokemon Let's Go and Super Smash Brothers Ultimate, which both come with special decals on the Switch itself or the dock. Then there's the Fortnite bundle – launching today – which is a little strange when compared to the other two.
For starters, there's no limited edition Switch inside the box. Instead, you'll just be getting a standard console with neon red and blue Joy-Con controllers. On top of that, Fortnite is a free game, so it's not like Nintendo can give you a discount for buying the console and the game together.
It can, however, give you some in-game goodies for free. Fortnite's entire profit model is based around the sale of V-Bucks, which can be used to buy cosmetics from the in-game shop or Battle Passes, which unlock 10 weeks of challenges that can be completed to earn even more cosmetics. If you pick up the Fortnite Switch bundle, you'll get 1,000 V-Bucks on the house – enough to buy the Battle Pass for the recently-launched season 6.
In addition to the free V-Bucks, you'll also get a few cosmetic items. Included in the Switch Fortnite bundle are the Double Helix skin, Telemetry back bling, Pinpoint pickaxe, and finally, the Rotor Glider. Nintendo and Epic have determined that the freebies in the Fortnite Double Helix bundle (as it's officially called) have a total value of $45.
The bundle costs $299.99, which is the same price as the standard Switch. So, if you're a fan of Fortnite and you've been thinking about getting a Switch, this might be worth a purchase just for the in-game extras. The Fortnite Double Helix bundle is available at a variety of retailers today, including Amazon and GameStop.
SlashGear uses Amazon affiliate links, and if you buy something we may get a small share of the sale.