It's going to take a while before Nintendo finally reveals its new NX gaming console, which could make or break its place in the gaming industry once and for all. That means, of course, that there is plenty of time to hear about both good things and disappointing speculation. For the former, a leaked survey seems to hint that the NX would be at least comparable with its current gen rivals from Sony and Microsoft. But like any platform, it will be the content that takes advantage of the hardware that will be the key to the Nintendo NX's success.
A page in a private Nintendo survey reveals a few juicy tidbits about the capabilities, and even packaged accessories, of the NX gaming hardware. Among those are, of course, the graphics capabilities of the hardware. To be even more specific, there is mention of 4K/60fps streaming as well as local rendering at 900p/60fps.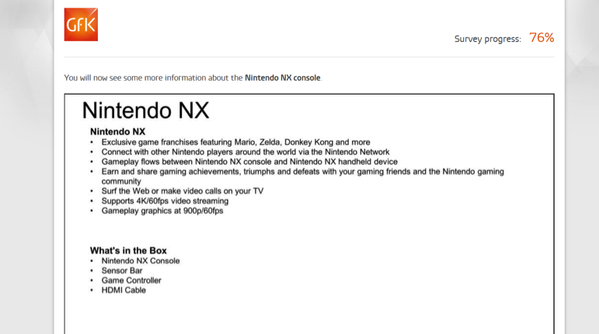 Now that translates to some rather capable hardware, definitely a lot more than what the usually conservative Nintendo offers on its console. ExtremeTech also theorizes that this could mean that AMD won't be running inside, as the chip maker currently doesn't have hardware supporting HDMI 2.0, which is the version of the spec that supports 4K/60fps over HDMI.
The 60 fps part, both streaming and local, is also significant, as it implies how capable the console will be. However, how that plays out in practice will depend on the number of games that will actually take advantage of that. At the moment, the record even on the PS4 and Xbox One isn't exactly encouraging.
The leak also mentions an NX console and NX handheld, with gameplay flowing between the two. Whether that means a combination of hardware like the present Wii U or really two separate but interoperable devices is still yet to be seen. Since Nintendo boasts that the NX will be a break from the past, we're keeping our fingers crossed it will be the latter.
VIA: ExtremeTech