Nintendo NES Classic Edition Revealed: Super Tiny!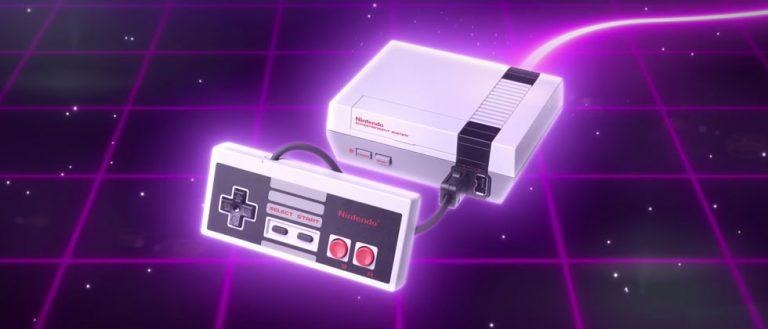 The newest gaming console from Nintendo is also the cutest – the Nintendo Entertainment System: NES Classic Edition. This device looks very, very similar to the original NES, and indeed has many of the same features, but this time it's a whole lot smaller, and comes with games built-in. Not crappy games – good games. The games you remember playing. And the controllers are the same – it's basically everything you want and nothing you don't. You don't have to blow on any cartridges to make them work – unless you want to!
The controllers look (and probably feel) the same as the originals. In the box is one NES Classic Edition system, one NES Classic Controller, an HDMI cable (standard HDMI-out from the console), and an AC adapter (for power). Each additional controller will cost $10 USD.
These controllers work with the Wii or Wii U to play NES Virtual Console games by connecting to Wii Remote controllers. The connector you'll see on the console is the same as the connector you'll see at the base of a standard Wiimote.
Below you'll see the 30 games that come with this console – all included with the console's base build.
• Balloon Fight
• Bubble Bobble
• Castlevania
• Castlevania II: Simon's Quest
• Donkey Kong
• Donkey Kong Jr.
• Double Dragon II: The Revenge
• Dr. Mario
• Excitebike
• Final Fantasy
• Galaga
• Ghosts'N Goblins
• Gradius
• Ice Climber
• Kid Icarus
• Kirby's Adventure
• Mega Man 2
• Metroid
• Ninja Gaiden
• Pac-Man
• Punch-Out!! Featuring Mr. Dream
• StarTropics
• Super C
• Mario Bros.
• Super Mario Bros.
• Super Mario Bros. 2
• Super Mario Bros. 3
• Tecmo Bowl
• The Legend of Zelda
• Zelda II: The Adventure of Link
We'll be waiting for the rest. At the moment Nintendo hasn't released any details on whether or not this console will be able to load additional games. If it does, it'll likely be able to attain them in a way similar to the Wii, with the Virtual Console system.
This console will cost users $60 USD and will be available on the 11th of November, 2016.