Nintendo lists Best Buy locations for E3 game previews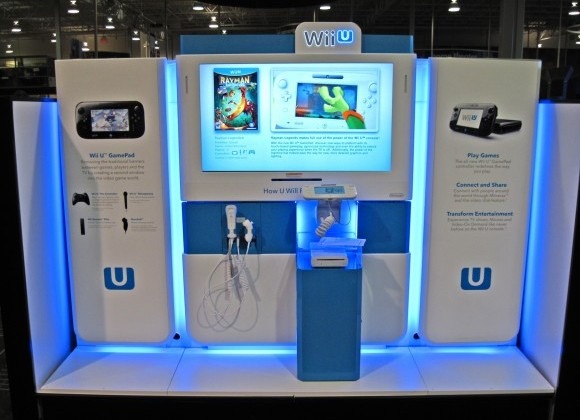 Nintendo has listed the 110 Best Buy stores that will give impatient gamers an opportunity to play new Wii U and 3DS titles alongside their launch at E3 2013 next month, as part of its attempt to boost enthusiasm in the fact of Sony and Microsoft's next-gen consoles. The scheme, revealed earlier this month, will see select games put up for in-store play, though not offered for sale at that stage.
In the US, 89 Best Buy stores will be participating; the remaining 21 will be in Canada. Times on two days will be set aside for access, first from 4-8pm local time on Wednesday, June 12, and then again on Saturday, June 15, at 1-5pm local time.
The events are part of what Nintendo has already confirmed will be a software-focused E3 appearance for the company, with no new hardware expected. That's arguably the biggest gap in Nintendo's line-up, however. The company saw fewer sales of the Wii U than expected in the early months of 2013, blaming the shortfall on a lack of high-profile titles.
Although the stores are known, which titles will be shown is still unclear. One possibility is Nintendo's exclusive on SEGA's upcoming Sonic the Hedgehog game, Sonic Lost World, which will only be available on Wii U and 3DS; however, it could also be Mario & Sonic at the Sochi 2014 Olympic Winter Games, or a number of other games.
It's not the first time Nintendo has taken its consoles on the road to try to stimulate interest. Ahead of the launch of the Wii U in November 2012, Nintendo put sneak-peek booths in some Best Buy stores so that gamers could sample the motion-tracking console.
Participating Best Buy US stores:
Alabama

Birmingham

Huntsville

Arkansas

Fort Smith

North Little Rock

Arizona

Phoenix

California

Culver City

Elk Grove

Emeryville

San Jose

Tracy

Visalia

Colorado

Denver

Connecticut

Manchester

Delaware

Wilmington

Florida

Brandon

Fort Myers

Gainesville

Kissimmee

Miami

Pensacola

Georgia

Augusta

Duluth

Savannah

Smyrna

Iowa

Cedar Rapids

West Des Moines

Illinois

Bloomington

Schaumburg

Indiana

Greenwood

Kansas

Overland Park

Wichita

Kentucky

Florence

Lexington

Louisville

Louisiana

Harvey

Massachusetts

Cambridge

Dedham

Worcester

Maryland

Frederick

Glen Burnie

Wheaton

Michigan

Ann Arbor

Flint

Grand Rapids

Rochester Hills

Minnesota

Eden Prairie

Missouri

St. Louis

North Carolina

Cary

Fayetteville

Pineville

Winston-Salem

New Jersey

Iselin

West Paterson

Woodbury

New York

Albany

Amherst

Long Island City

Syracuse

Valley Stream

West Nyack

Ohio

Fairborn

North Olmsted

Reynoldsburg

Toledo

Oklahoma

Oklahoma City

Oregon

Portland

Pennsylvania

Erie

King of Prussia

Pittsburgh

Reading

Whitehall

South Carolina

Greenville

North Charleston

Tennessee

Brentwood

Knoxville

Memphis

Texas

Arlington

Austin

Houston

McAllen

The Woodlands

Tyler

Utah

Sandy

Virginia

Charlottesville

Glen Allen

Virginia Beach

Vermont

Williston

Washington

Lynnwood

Wisconsin

Greenfield