Nintendo DSi vs DS Lite size comparison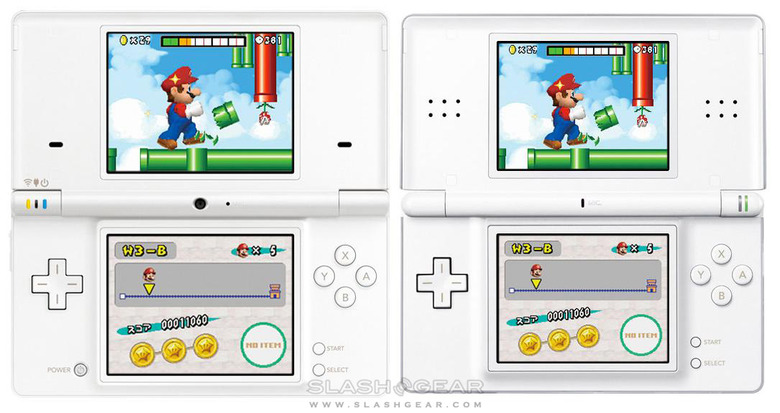 On Nintendo's new Japanese site for the DSi there's a photo viewer to compare the existing DS Lite handheld to its new DSi sibling.  SlashGear reader Sion extracted and pieced together the two images for us as a direct size comparison between old and new; as you can see, the new 640 x 480 3.25-inch screens on the DSi (left) are significantly bigger than the 3-inch displays on the DS Lite (right).Larger version of this image after the cut
The images also show the new internal camera, mounted in the center of the hinge where the DS Lite's microphone used to sit, which is believed to be VGA quality and intended for video conferencing.  The microphone has shrunk and sits next to the webcam, while the speakers have been minimized from their previous six perforations to just one each.
The DSi power button has moved to the front lower panel, to the bottom left of the touchscreen, and the Start and Select buttons have grown a little.  Meanwhile the status indicator LEDs have switched from the right hand hinge shoulder to the left, with three lights instead of the DS Lite's two, and displaying WiFi, charge status and power.
As well as mobile gaming, the Nintendo DSi will serve as a PMP.  Users can play MP3s as well as adjust pitch and other playback elements.  It also appears to support voice recording.
More on the DSi here.