Nintendo DSi: dual-camera handheld gaming, with new DSi Shop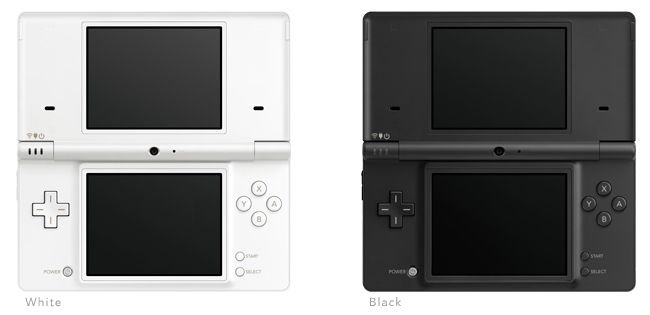 Nintendo has announced its new DSi, the update to the DS Lite, at the company's Fall presentation in Japan earlier today.  As expected, it features the same dual-display clamshell layout as the DS (both larger at 3.25-inches, with the bottom display remaining a touchscreen) with additional media features: an external 3-megapixel camera, an internal video-call camera and an SD slot, together with internal storage.  The removal of the GBA cartridge slot has meant the DSi can be 12-percent thinner than the previous DS Lite.More details, including the DSi Shop and a video overview of the DSi, after the cut
Photos can be stored to the internal memory, to an SD slot or uploaded directly to the Wii Photo Channel.  It can also play music, stored on its local memory.
Nintendo have also announced the DSi Shop, an online app distribution channel similar to the iPhone's AppStore, through which new games and other software can be downloaded via a WiFi connection.  A free web browser and a game, DS Ware, will be among the titles initially offered.  What were originally called Wii Points will now get the generic title of Nintendo Points, and be used to purchase apps through the DSi Shop; downloads will be 'priced' at 200, 500 or 800 points, and 1,000 points will be included with any new DSi bought before March 2010.
Branches of fast-food chain McDonalds in Japan will offer "Nintendo Zone" WiFi hotspots where DSi owners can get free internet access.  The DSi does not appear to necessarily replace the DS Lite, with Nintendo describing it as a third platform in their mobile gaming strategy and suggesting that it could live alongside the existing handheld.
The DSi will be be priced at ¥18,900 ($178) and launch in Japan on November 1st in black and white; the rest of the world will be able to pick the console up in 2009.
Nintendo DSi video presentation & title line-up: