Nintendo Classic Controller PRO for Wii announced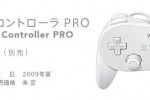 Nintendo Japan have unveiled a new controller for the Wii, an update of the classic controller design that they're calling the Classic Controller PRO.  The new design adds hand-grips and increases the space between the joysticks; it also throws a few more shoulder buttons into the mix.
The Nintendo Classic Controller PRO measures 100.5 x 146 x 55mm, and looks a little like an inflated Sony DualShock controller.  It's also apparently wired, though a Google translate of the Nintendo site says "Communications capabilities of the Wii Remote Controller".
No pricing or specific availability details are known for the new Wii Classic Controller PRO.  Nintendo only say it will arrive in the Summer of 2009, and give no word on whether it'll make it outside of Japan.
[via Kotaku]