Nintendo announces New 3DS bundle, adds eight titles to Selects lineup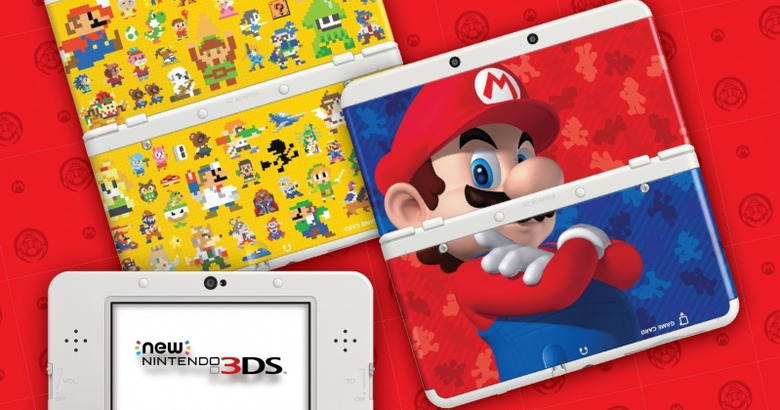 If you've been thinking of picking up Nintendo's New 3DS, you may want to hold off just a little longer, as the company has announced a new bundle that features a pre-installed copy of Super Mario 3D Land. The bundle comes in at $150, which Nintendo says is the lowest price ever for one of these New 3DS bundles. As a particularly nice bonus, Super Mario 3D Land just so happens to be one of the best games on the 3DS, so starting off your collection with that gem isn't bad at all.
The bundle also features a pair of removable faceplates players can adorn to the front and back of their 3DS, with one featuring a collection of 8-bit Nintendo sprites and the other displaying a rather serious looking Mario. This bundle will go on sale exclusively at Target and Walmart stores in the US on August 26.
On top of the New 3DS bundle, the Nintendo Selects lineup of games is growing, with Nintendo tossing a handful of 3DS and Wii U games into the mix. For the uninitiated, Nintendo re-releases the best selling games on each platform as Nintendo Selects titles, giving them a permanent price drop to $20 each. Have a look at the games joining the lineup:
3DS
- Animal Crossing: New Leaf
- Luigi's Mansion: Dark Moon
- Tomodachi Life
- nintendogs + cats: Golden Retriever & New Friends
- LEGO City Undercover: The Chase Begins
Wii U
- The Legend of Zelda: The Wind Waker HD
- Nintendo Land
- LEGO City Undercover
Finally, Nintendo also announced that it will be dropping the price on a few amiibo bundles, bringing them down to $39.99. These include Yoshi's Wooly World with either a light blue or pink wool Yoshi amiibo, Mario Party 10 with either a Peach or Bowser amiibo, and a Captain Toad: Treasure Tracker bundle that features the mushroom man himself.
All in all, these are some pretty solid deals, especially if you've yet to take the plunge on a New 3DS. Animal Crossing: New Leaf and Wind Waker HD joining the Nintendo Selects lineup is particularly noteworthy as well, considering those are two of the best games available on their respective platforms. Do you see any deals worth taking advantage of?