Nintendo 3DS Sales Soar After Price Slash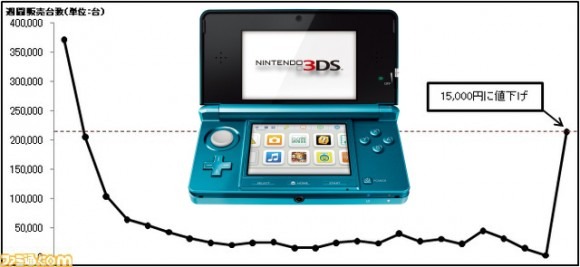 Nintendo's price slash to the 3DS looks to have reignited interest in the glasses-free 3D gaming handheld, with sales in Japan reportedly flourishing after the discount took effect. According to figures reported by Famitsu, Nintendo shifted 214,821 3DS units in the week between August 8 and August 14 after having dive-bombed in the months following the device's launch.
In fact, it's suggested, Nintendo sold more 3DS units after the price cut than it did in the second week that the console was actually on sale. Not quite as many as the very first week of Japanese availability – which came in at 371,326 units – but impressive numbers nonetheless.
Nintendo cut the 3DS by 10,000 yen to 15,000 yen in Japan, as part of a global discounting promotion intended to build the device's userbase. Officially US pricing dropped to $169.99 earlier this week, though many retailers had jumped the gun and slashed the sticker price early. According to an open letter to 3DS early-adopters by Nintendo president Saturo Iwata, apologizing for the "dramatic price drop", the sudden change was prompted by concerns that, without suitably broad market adoption, developers would begin to ignore the 3DS altogether.
[Thanks Carl!]