Nintendo 3DS "Kakuchou Slide Pad" Second Analog Adapter Leaks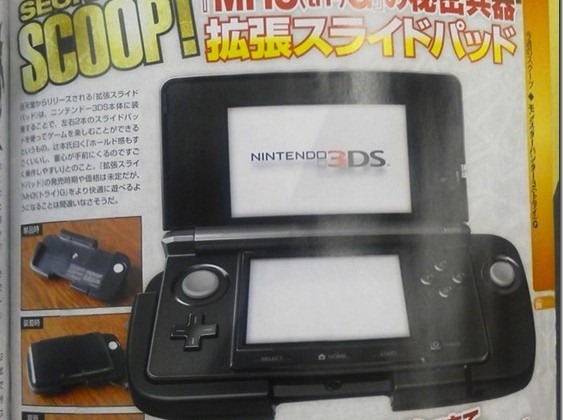 Nintendo's new 3DS analog pad adapter – which will add a second joystick to the glasses-free 3D handheld – has been leaked, revealing the gadget to be a cradle into which the 3DS slots. Images of the  "Kakuchou Slide Pad" – or "Expansion Slide Pad" – were published in the Japanese Famitsu gaming magazine, Siliconera reports, showing a smaller second stick that can be used with Monster Hunter 3G.
In addition to the joystick, the cradle also looks to add R2 and L2 buttons to the rear of the 3DS. It's unclear, at present, whether games other than Monster Hunter 3G will make use of the new accessory: title supervisor Ryozo Tsujimoto describes it as the game's "secret weapon," Andriasang reports, and suggests that it will allow gamers to experience the same feeling as if playing Monster Hunter 3 on the Wii.
Pricing and availability for the Kakuchou Slide Pad have not been revealed, though it's possible that it could be bundled with Monster Hunter 3G if the game demands it. It's not exactly the most attractive of peripherals, and is already prompting criticism among gamers, but if Nintendo is clever they'll slot an extra battery inside too and boost the 3DS' relatively poor runtime.