Nikon shares D5600 DSLR release and pricing details for US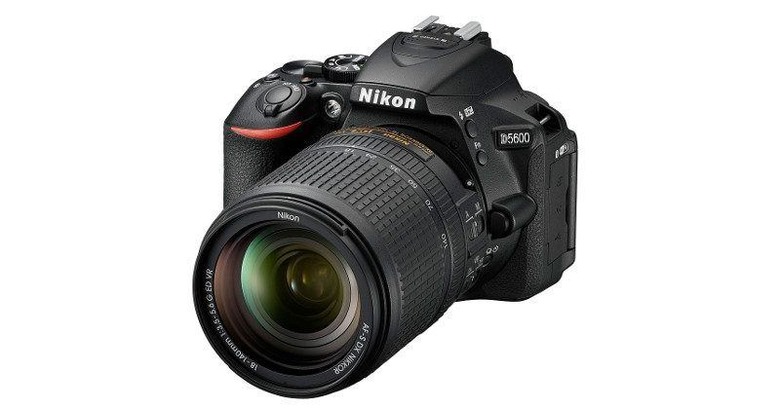 Back in November, Nikon unveiled its D5600 DLSR camera. At the time, it didn't give us any pricing or release details, but that didn't stop us from taking a few guesses. We assumed that the D5600 would be priced similarly to its predecessor, the D5500, and with Nikon finally delivering those pricing and release details today at CES, it turns out that we weren't far off the mark.
If you're hearing about the D5600 for the first time today, allow me to bring you up to speed. The D5600 is an entry-level DSLR in most regards, but it has a few connectivity features that might find it an audience. The 24.2-megapixel camera is compatible with Nikon SnapBridge, which uses Bluetooth low energy to connect to compatible wireless devices for the purpose of transferring photos.
For instance, use SnapBridge and BLE to transfer photos to your phone as you take them, and then you'll have an easy way to upload them to your various social media networks. You can also upload them to Image Space, which is Nikon's own cloud backup utility. Since SnapBridge uses Bluetooth, you don't need to rely on an internet connection to sync your photos, and the low energy implementation of Bluetooth means that it won't be a major drain on your battery.
The camera itself features the same EXPEED 4 image processor that was used in the D5500. With the D5600, you'll be able to take advantage of a continuous shooting mode that snaps photos at 5-frames-per-second. 39-point autofocus is present as well, along with a 100-25,600 ISO range that should aid in low-light shooting.
Nikon says that the camera will be launching the US later this month. We don't have a specific day, but at least now we know that it's coming up soon. When it arrives, you'll be able to pick up the camera and an AF-P DX NIKKOR 18-55mm f/3.5-5.6G VR lens for $799.99. A second bundle that packages in AF-P DX NIKKOR 18-55mm f/3.5-5.6G VR and AF-P DX NIKKOR 70-300mm f/4.5-6.3G ED lenses will be available for $1,149.95.
The highest-priced package of the bunch includes the camera and an AF-S DX NIKKOR 18-140mm f/3.5-5.6G ED VR lens for $1,199.95. Finally, if want to pick up the camera body on its own, you can expect to pay a suggest retail price of $699.95. Have a look at our CES 2017 hub for all of SlashGear's coverage from Las Vegas!