Nikon D400 imminent? Guide book coming in July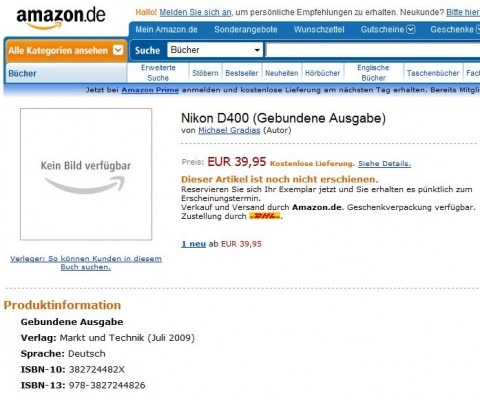 We may receive a commission on purchases made from links.
Is Nikon planning to launch the D400 DSLR around July this year?  That's one interpretation of this Amazon Germany listing for a new book about the rumored camera; the text, simply called Nikon D400 – "gebundene ausgabe" means "hardcover" – is by Michael Gradias, and according to the retailer it will launch in July this year.
Gradias has a considerable back-catalog of photography books, mainly covering Nikon DSLR cameras, lending weight to the authenticity of the title.  Similarly the ISBN numbers have both been checked out and found to be legitimate; the publisher also lists the title on their site, suggesting it will be 352 pages long and include a CD.
Nikon have made no official mention of the existence of the D400, but the camera seems a logical next-step for the company.  The current tentative expectation is that the D400 will be announced at PMA09 in March.
[via Nikon Rumors]