Nikon D4 DSLR hands-on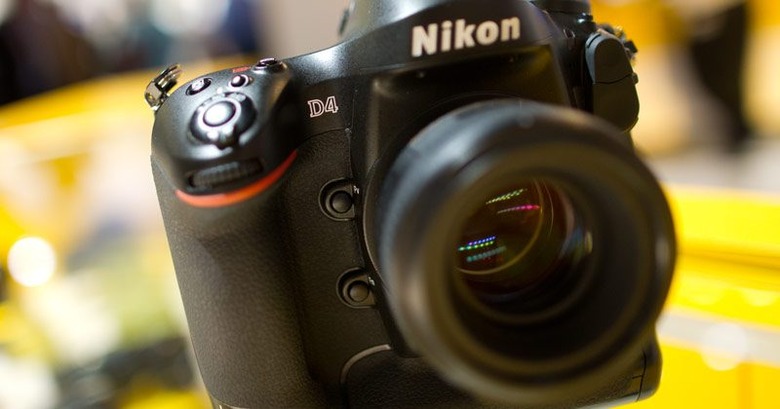 Nikon jumped the gun as far as CES goes when it announced the brand new D4 last week.The successor to its D3 line has been anticipated for months, and that's the reason that the company showed off its new baby on the show floor. We got some photos of the D4 (in between nasty looks for shooting with Canon) along with the new 85mm F1.8 Prime Nikkor lens.
The D4 is everything you'd expect out of a super high-end camera: big, solid and heavy, with a pro array of controls and configurations. The controls have changed a bit since the D3 series, but dedicated photographers (essentially the only target market for this beast) will adapt quickly enough. The connections along the left side of the camera are now including more dedicated video functions, with audio both in and out, so you can listen to your recording levels via headphones like a full-sized video camera. The HDMI port can stream directly to an external source.
There's one major new video feature: an adaptive crop that allows the video recording to only use a portion of the full-frame camera's sensor. The crop matches the level of a cheaper DX or 2.7 camera/lens combination, but still uses enough of the sensor to record in full 1080p. This is useful for taking video with lenses that might not be ideal for it, like a wide-angle prime, essentially making a "virtual zoom" without losing any image quality.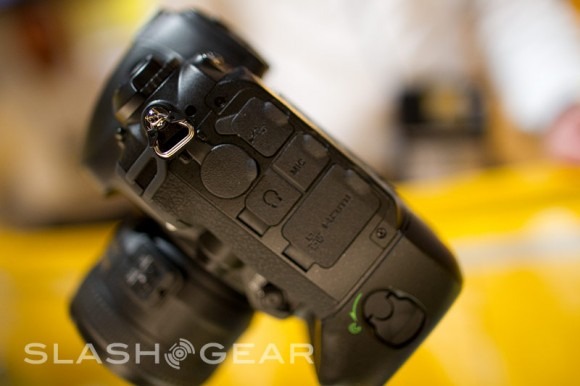 As far as hardware goes, the D4 uses a 16.2 megapixel sensor ideal for capturing fast-moving subjects. The camera captures 11 frames a second, with an ideal ISO range of an incredibly low 50 to as high as 12,500, with boosts of up to 204,800. 51 points of auto-focus help you get your target sharp, and the D4 supports standard CF and the new QXD cards for photo storage. The Nikon D4 has a suggested retail price of $6000, and will be available in February.
The new 85mm F1.8 lens falls squarely into the "prosumer" category: compared to Nikkor's other lenses, it's a bargain. That said, you get what you pay for: there's definitely a lot more plastic than we're used to seeing on a prime lens this fast. The 85mm lens will debut with the D4 in February.