Nikon COOLPIX S800c Android camera gets video demo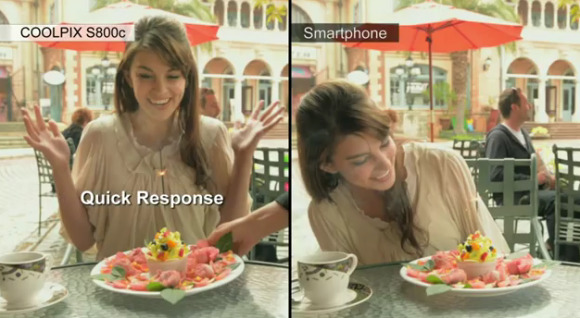 If you're not quite sure what the Nikon COOLPIX S800c Android-powered camera is all about, you're not alone – that's why Nikon has created a simple-to-swallow demo video for your convenience. This video has the same nerd on both sides of a black line, busting out a COOLPIX S800c in one instance to take a photo of a stray parrot perched on a porch, and a nondescript smartphone in the other. The point here is to show how it's simpler to take photos with a camera running Android than it is to use a smartphone running the same OS.
They also make it clear that the smartphone, in this case, will not have the same – or any, for that matter – optical zoom that the COOLPIX does. Many smartphones do have digital zoom, but this method doesn't use lens adjustments and therefor makes the photo you take get just a bit more grainy the closer you get – every time. The S800c is able to zoom in on your subject with 10x optical zoom – the good kind.
The S800c also has the ability to take 16 megapixel photos which, unless you're using an amazing device such as the Nokia 808 PureView (see our full review here), you're just not going to get from a smartphone. This camera is shown doing essentially the same set of tasks as the smartphone in the video, but with less steps in some cases – and of course with the one drawback in place, that being a lack of mobile data connectivity.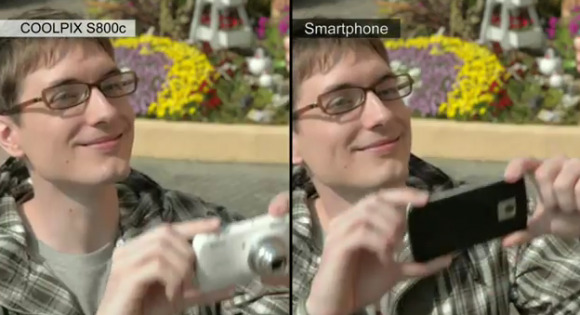 Instead you'll need to be working with Wi-fi connected to data – which you might want to get being connected to your smartphone. But at that point you might just want to send the camera back and pick up your phone – but who are we to judge? The COOLPIX is also shown battling against what appears to be an iPhone, gaining a lot more "Great!" points on an off-brand social network than the smartphone.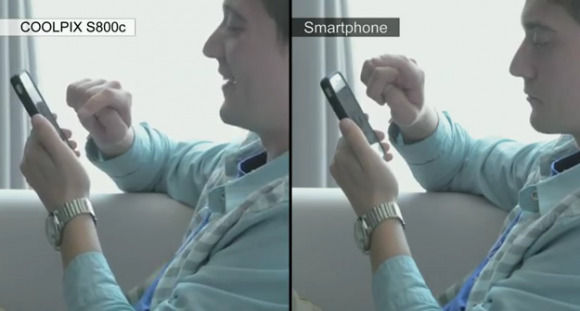 Of course there are a few oddities in the video such as the iPhone appearing on both sides of the black line at once at 0:32 – but no worries, the message is clear! Have a peek at the timeline below to see more Android camera action from Nikon from all angles!