Nikola Motors celebrates Tesla lawsuit with huge EV truck deal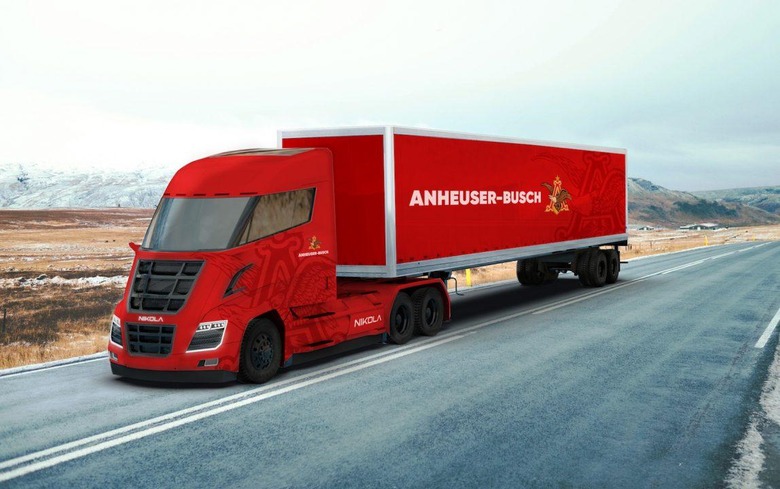 Tesla's electric Semi may be making headlines, but it's not the only green truck making inroads into haulage fleets. The Nikola Motor Company has announced a sizable order from beer brewer Anheuser-Busch, with up to 800 of the automaker's hydrogen-electric vehicles expected to be added to the long-haul fleet.
Where the Tesla Semi opts for a battery-electric platform, like an enlarged version of the drivetrain that powers its passenger cars, Nikola has opted for a different strategy. Its semi-trucks are hydrogen powered, combining a rechargeable battery with an onboard tank of the high-pressure gas. That can drive a fuel cell, which then recharges the batteries.
Judging by Nikola and Anheuser-Busch's mockup of what such a truck might look like on the road, it's using the Nikola Two design. That's currently up for reservation, and promises up to 2,000 lb-ft of torque and up to 1,000 horsepower. It can travel between 500 and 1,200 miles before needing refueling,
That fueling process can be in either of two ways. On the one hand, drivers will be able to plug in an electric charger, topping up the battery pack directly. The battery is good for 100-200 miles of range on its own, the company says.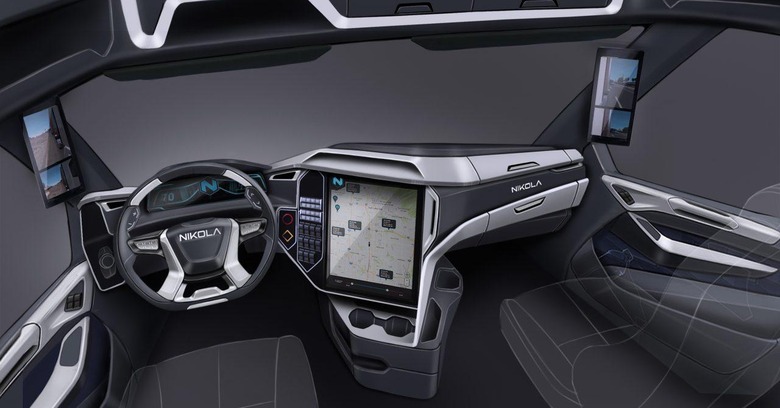 However, arguably more efficient will be hydrogen refueling. Filling the tank takes less than 20 minutes, Nikola says, with the automaker expecting to have over 700 hydrogen fueling stations across the US and Canada by 2028. The fuel cell works as an onboard generator, significantly extending the truck's range.
Anheuser-Busch hasn't said exactly how many of the trucks it plans to add to its fleet, only suggesting it could be as many as 800. They're expected to begin rolling out in 2020, as part of the brewer's longer-term plan to convert its entire long-haul dedicated fleet to using renewable power by 2025. 800 Nikola trucks alone, replacing traditional diesel semis, would cut Anheuser-Busch's carbon emissions from logistics by more than 18-percent, it's suggested.
Certainly, the renewable power truck segment remains a relatively small one. Even with relatively large orders like this, there's still plenty of scope for Nikola and Tesla – among the companies wading in – to grow. Nikola says it currently has close to $9bn worth of truck sales in reservations already, though it will also lease the trucks on a 7 year unlimited mileage and fuel deal.
That hasn't stopped it wading into a legal battle with Tesla, mind. Earlier this week, Nikola announced it was suing Elon Musk's company for $2bn, over the design of the Tesla Semi which, it alleges, infringes on patents it holds.