NIKE teases legendary Marty McFly Sneakers with epic 1985 invite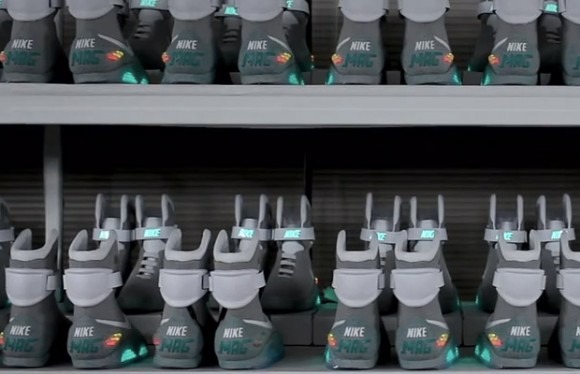 Welcome Back to the Future, where the most widely anticipated pair of sneakers ever conceived have been all but confirmed by NIKE as being about to come into existence – IT'S ABOUT TIME. In a teaser handed out to select sneaker-heavy publishing groups, a midnight call from NIKE quickly turned into a room with only a black box with the swoop logo on it, an iPod Shuffle, and a card which read "Play Me." Once Dr. Emmett Brown was heard saying "Welcome to Los Angeles. If my calculations are correct, over the next 24 hours you are about to see some SERIOUS SH*T!", the publisher's next move was to open the box and find a pair of the Doc's classic 2015 shades and a message that invited them to an event that promised nothing less than the sneakers themselves!
UPDATE: FULL DETAILS have been released about what's now called the 2011 NIKE MAG – most excellent!
Image above is HD screenshot from teaser video below!
For those collectors (and wearers) of massive amounts of sneakers, especially those lovers of the NIKE brand, a patent filing for an AUTOMATIC LACING SYSTEM back in 2010 seemed like the closest they've gotten yet to the mythical Back to the Future high-tops Marty McFly wears in the second installment of the film series. It's the NIKE MAG we're talking about here, an early attempt at which NIKE made in what was called the Hyperdunk, also inside 2010 – they still make them today and they did make a special "McFly" edition, but when it comes down to it, nothing can truly compare to the original MAG.
Those still hoping for the real deal will be glad to know that it appears very likely now that NIKE has obtained the rights to create such a shoe, a teaser video in such high resolution you get to see the sneakers before they're technically announced as well as the invite spoken of and pictured above (courtesy of Nice Kicks) coming to fruition right before our eyes!
The patent filed last year for an automatic lacing system (and still available for viewing here and here) read, in part, as follows:
The automatic lacing system provides a set of straps that can be automatically opened and closed to switch between a loosened and tightened position of the upper. The article further includes an automatic ankle cinching system that is configured to automatically adjust an ankle portion of the upper.
You can see images from the filing in the gallery above as well. Below you'll be able to see the first teaser video for these ultra-epic sneakers. Could it be? Could this finally be it? Good lord, how could anyone on earth resist such a fantastical set of shoes?!
Power laces, alright!
Thanks for the tip Stephen S!