Nike MAG Back to the Future shoes made affordable with HyperAdapt 1.0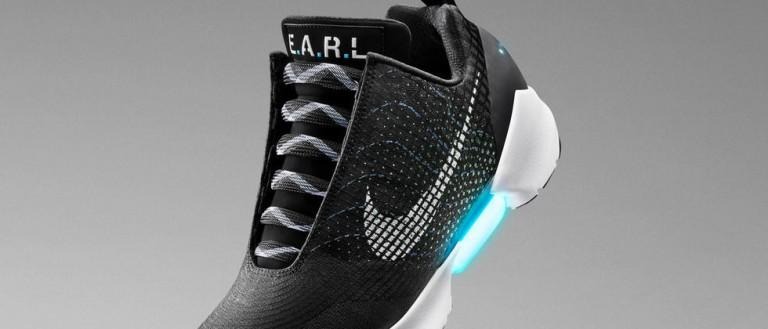 Today you're going to see some self-lacing shoes from Nike the likes of which you've only ever seen in Back to the Future. While the company has released some limited-edition Nike MAG shoes before – like you saw Michael J Fox wear in Back to the Future II, you've never seen them released to the public in an edition that was anywhere near affordable by the common user. Today that'll be changing. This is the Nike HyperAdapt 1.0.
This new shoe has self-tightening laces. When you first put your foot in the shoe for the first time, you'll make adjustments with two buttons on the side of the shoe. From that point on, your shoes will self-tighten whenever you put them on.
Tiffany Beers, Senior Innovator, NIKE, Inc., explains: "When you step in, your heel will hit a sensor and the system will automatically tighten."
"Then there are two buttons on the side to tighten and loosen. You can adjust it until it's perfect."
Users who make themselves a part of the Nike+ club will be able to purchase the Nike HyperAdapt 1.0 shoe starting during the holiday season of this year, 2016. They'll be available in three colors. This is a mobile app you'll have to make yourself a member of – one of several that'll be available this June.
What you've got to do to get these shoes:
1. In June, download Nike+ Run Club, Nike+ Training Club, or Nike+ SNKRS for iOS for iPhone or iPad.
2. Sign up for NIKE+
3. Twiddle your thumbs.
According to Nike: "Starting in June, the new Nike+ app becomes athletes' all-access pass to Nike's most coveted products and events via one seamless sign-on."
You'll need to be a member if you want to accelerate towards the Nike HyperAdapt 1.0.
"Innovation at Nike is not about dreaming of tomorrow. It's about accelerating toward it," said designer Tinker Hatfield.
"We're able to anticipate the needs of athletes because we know them better than anybody. Sometimes, we deliver a reality before others have even begun to imagine it."