Nik Wallenda Grand Canyon high-wire walk sets risky record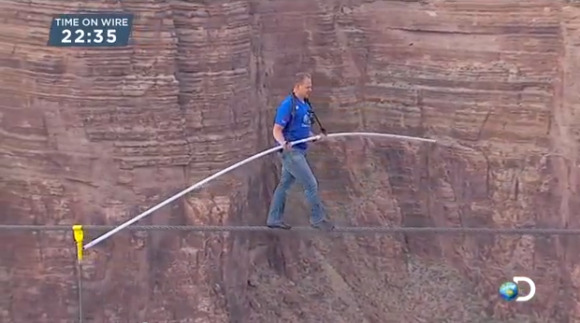 A daredevil high-wire walk across the Grand Canyon, with no safety net or harness, has set a new world record, with so-called "King of the High Wire" Nick Wallenda taking almost 23 minutes to cross the 1,400 foot wide chasm. Broadcast live on Sunday, the stunt saw Wallenda risk a 1,500 foot plummet as he gingerly walked along the 2-inch thick cable above the Little Colorado River Gorge.
Wallenda had to pause twice during the 22 minute, 53 second stunt, after inadvertently transferring some unwanted movement to the wire. "It was way more windy, and the movement of the cable, and the sidewalls as I was walking were getting in the way and confusing me as the pendulums were swinging against them," he said in a post-walk interview, "so I tried to react and when I reacted I kicked that rhythm into the cable. It took every bit of me to stay focused that entire time. My arms are aching like you wouldn't believe."
The performer has some history in death-defying feats. Last year, he successfully walked across Niagara Falls, though there was forced to wear a safety cord tethering himself to the cable by network ABC. For the Grand Canyon walk, Wallenda in fact used the same cable again, pausing midway to crouch down and steady it.
"I was building a huge rhythm in the cable; I had to sit down to hopefully take that rhythm out. If I didn't go down, [if I] kept walking, it's just getting worse" he said afterwards. "It's totally an optical illusion ... the pendulum is swinging this way and the cable moving this way, and the wall that's solid, really was confusing to me. To see, to have anything to focus on that I could counterbalance off of."
Nik Wallenda post-walk interview:
Another crouch was to avoid a sudden gust of high wind, which threatened to unbalance him. The cable had also gathered a layer of dust, which threatened to undermine the grip of his specially-created shoes.
"I was fatigued until I was about three-quarters of the way across, and then it was all adrenaline" Nick Wallenda
However, while the stunt is being seen as a success for both Wallenda and the Discovery Channel, which broadcast it live to 217 countries, it has also kicked up some controversy. Some locals have accused the network and the Navajo Nation of misleading viewers, the Guardian reports, in describing the walk as across the Grand Canyon whereas in fact it is across a different area altogether.
Full Grand Canyon walk: