Nexus One Vodafone Germany price leaked?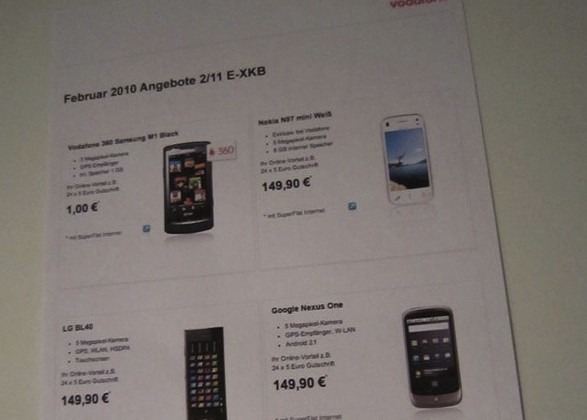 Google may have been able to blur country boundaries with their (limited) international shipping for the Nexus One, but they haven't been able to quash import duties and taxes.  That's meant an extra sting in the unlocked tail of the Nexus One for those impatient enough to order it straight away, and a fair few folk preferring to wait until Google start offering the Android 2.1 smartphone locally.  Until now we didn't know how much that would cost, but a supposed leak from Vodafone Germany has tipped a contract price of €149.90 ($217).
That's obviously a contract-price, presuming you buy the Nexus One with likely two years of service.  The carrier is yet to announce any plan pricing to go along with the phone – in the US only one package is available from Google's current carrier partner, T-Mobile – though Vodafone UK have previous mentioned that they expect the Nexus One to be available with their regular contract offerings.
As for the unlocked, SIM free price, that's still unknown, though we'd expect it to be similar (though with VAT and the like) to the US price of $529.  Of course, despite Vodafone Germany's apparent pricing, the Nexus One itself would be sold by Google through their new online store.
[via AllAboutPhones.nl]