Nexus One Desktop Dock arrives: A2DP audio but no PC sync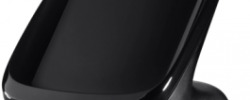 We kept screaming for Nexus One accessories and now, finally, we have one.  Google have pushed their Nexus One Desktop Dock out of the door, and as expected it does more than merely charge your smartphone and keep it out of the dust and crumbs on your desk.  Dropping a Nexus One into the Desktop Dock automatically kick-starts the Clock app (with time, weather, alarms, photo slideshows and media playback), and there's also an audio-out connector that allows you to hook the dock up to a speaker system and easily play music from your phone.
Bizarrely, Google make no mention of Bluetooth on the Desktop Dock's product page, instead burying it in the user guide [pdf link].  As expected, music is funnelled from Nexus One to Desktop Dock via A2DP – you're prompted to pair them when you first slot in the phone – though there's no word on whether you can subsequently play music remotely or if the handset always has to be docked.
Even more bizarre, the Desktop Dock doesn't sync your Nexus One with your computer; in fact there's no data transfer feature at all.  All it'll do is recharge the phone and play music.  Still, that's a pretty handy thing to have, and we reckon quite a few Nexus One owners will pay $45 for the privilege.
[via Android Community]