Nexus 7 With LTE No Longer Available Through Google Play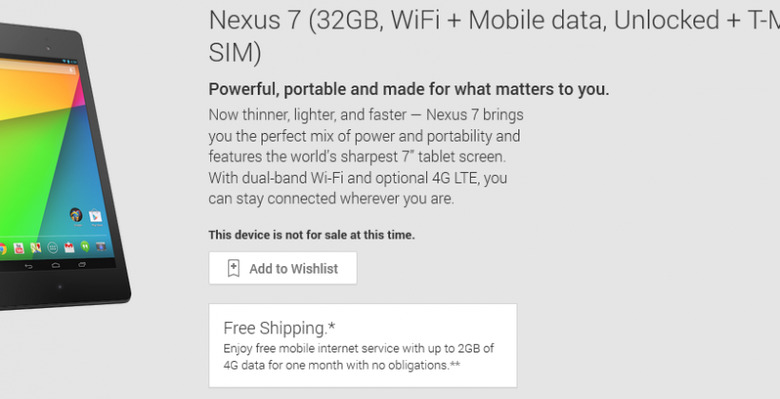 Back on September 9, the Nexus 7 with LTE support went up for sale on the Google Play Store, giving buyers an option for those who want a mobile data connection with their slate. Fast-forward one week, and the tablet is no longer available, with the Play Store simply reading a rather ambiguous: "This device is not for sale at this time."
There's no supplementary info about why the tablet is no longer available, with the Play Store merely offering the note mentioned above with an absence of any purchasing button. The folks over at Droid Life are reporting that some users are seeing the flag "Out of Inventory" rather than the notice we're seeing, so that could be the reason it is down.
So, in light of that, Google may have sold out of the slate already, in which case we'll be seeing it return at some point, perhaps soon. Otherwise, it is possible Google is tinkering with the website and that is why different users are seeing different notifications. And then there's options three, in which neither of the above explain it and only time will bring clarification.
The LTE version of the Nexus 7 features 32GB of storage space, as well as being unlocked with a T-Mobile SIM and support for 4G networks. When it was available, the slate was priced at $349 USD, while the 16GB and non-LTE 32GB models are priced at $229 USD and $269 USD, respectively. Both of the other slates are still listed as available.