Nexus 7 with 4G LTE arrives in Google Play Store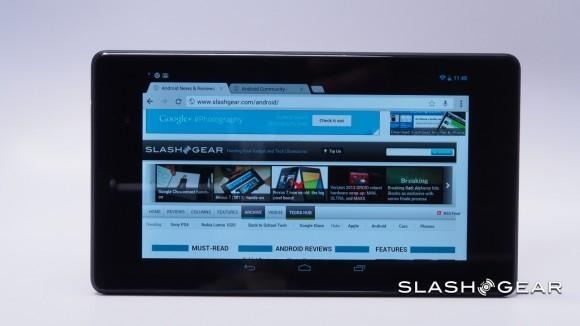 The latest iteration of the Nexus 7 tablet went up for sale in July, and a couple weeks later we saw hints that the LTE version of the tablet would be arriving soon. Now the availability of the Nexus 7 with 4G LTE from the Google Play Store has been announced, as well as its upcoming availability in T-Mobile stores.
The announcement was made over on the Nexus Google+ page, where it was also said the LTE version of the tablet will be arriving in T-Mobile stores in October, though no specified date was provided. The tablet is being sold unlocked alongside a T-Mobile SIM card, as well, so the slate can be used on the carrier's 4G mobile broadband network.
The slate is up in the Google Play Store for $349 USD for the 32GB model, with the Nexus 7 being shown as in stock and shipping within a couple of days. And as always, the two non-LTE versions are available as well, with the 16GB variety being offered at $229 USD and the 32GB version at $269 USD — both have dual-band WiFi.
The Nexus 7 2013 model features a 7-inch 1920 x 1200 HD IPS display with Corning Gorilla Glass. Under the hood, the tablet runs on a quad-core Qualcomm Snapdragon S4 Pro 1.5GHz processor and 2GB of RAM. Around back, the slate is equipped with a 5MP camera with auto focus, while the front has a fixed-focus 1.2MP camera. Software is Android 4.3.
On August 28, the slate went up for sale in the United Kingdom and Japan, with the release following an update Google sent out to fix problems that owners were experiencing with the slate.
SOURCE: Google+