Nexus 7 Did Not Outsell iPad In Japan According To IDC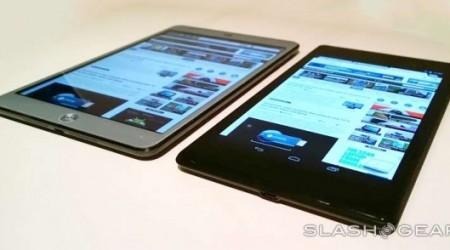 Earlier this year it was claimed by several news sources, then quoted again just this month by Google, that the Nexus 7 outsold the iPad in Japan in the fourth quarter of 2012. This assertion comes from a report by market research firm BCN, as quoted by Nikkei and re-published by several publications since early this year. Here after Google repeated the claim at their Nexus 7 reboot event, a bit more information on BCN's study has come to light – as have some rather contradictory numbers from research firm IDC.
According to BCN's claim, Google's Nexus 7 took 44.4 percent of the Japanese tablet market while the iPad took just 40.1 percent of that same market in the month of December. This study was done on a total of 2,400 electronics stores throughout the nation, with the following notable exclusions:
• Softbank
• KDDI
• Apple Store
According to Bylines, BCN covers a total of 16% of tablet-carrying sales channels inside Japan. With a relatively major gap in stores covered in this study – especially considering the relatively unique nature in which Apple sells its tablets in Apple-exclusive stores – the simple assertion that the Nexus 7 outsold the iPad across Japan should never have been made.
We've also had a chat with IDC Research Director for Tablets, Tom Mainelli, who contests BCN's numbers with a rather different view:
"Yes, I was a bit puzzled by Google's claims. We count the Nexus 7 as part of ASUS's shipments, and looking at our Japan numbers for 4Q12–which represent shipments into the channel–Apple shipped about 773K iPad units versus about 350K Nexus 7 units for ASUS." – Tom Mainelli, IDC Research Director, Tablets
Since BCN's study was a survey, rather than a run-down of shipment numbers, BCN isn't technically wrong in reporting the information they've found – it's the suggestion that their information represented the full market results that's misleading. While we've got to consider the limited nature of BCN's study and the fact that they did not aim to report the full quarter, the result is clear: the Nexus 7 is doing exceedingly well, but it's still not outselling the iPad in Japan, not by a long shot.