Nexus 7 2013 benchmarked: Snapdragon S4 Pro in full effect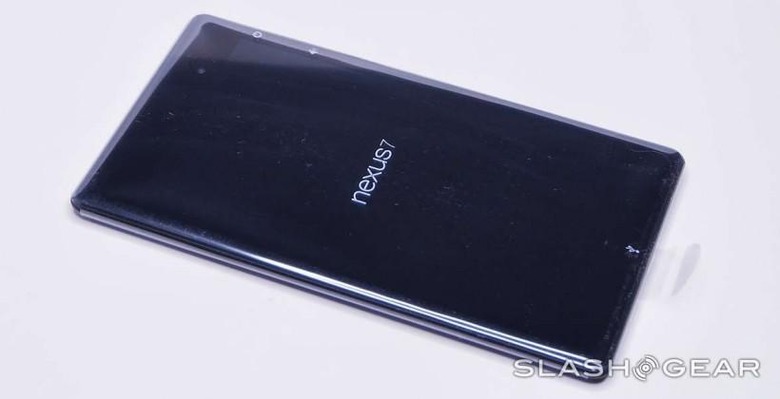 Here with the 2013 reboot of the Nexus 7, Qualcomm scores a bit hit with a new version of the quad-core Snapdragon S4 Pro (with Adreno 320 GPU), coming up to battle the original tablet's NVIDIA Tegra 3. This new device works with a much more high-definition display and a new edition of Android with version 4.3, so benchmark comparisons won't be especially telling – or fair, for that matter – but let's have a peek anyway!
What you're seeing first is SunSpider. This is just about the most basic test you can run on any device with a web browser, and we're running it here to check Javascript performance on the Nexus 7 2 inside Chrome. In this test, a lower number is better, because it tests load speed – quickness!
BONUS: More benchmarks on the way, including comparisons with the original Nexus 7 – stay tuned!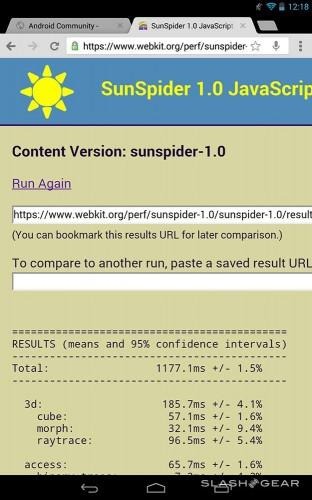 Next you'll find Quadrant, this test showing several factors in the machine's ability to work with CPU and GPU processing tasks. While this benchmark – along with the other processor-based tests – are perfect for testing one device's abilities against itself when you've got different software builds, or if a company releases the same device twice with different hardware bits, it's just OK when it comes to comparing two different devices like these Nexus 7 generations 1 and 2.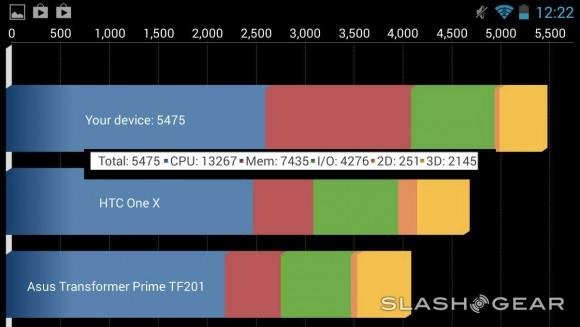 Antutu is next – this test is rather similar to Quadrant and also works to overclock your Android device if you're in the mood for hacking. This device once again appears to overpower most devices on the market today, but doesn't come close to the performance of the Qualcomm Snapdragon 600, a processor present in such devices as the HTC One and Galaxy S 4. We'll be seeing Tegra 4 performance on tablets soon, as well.

Then comes the Geekbench. This is Geekbench 2, a test that's also available on desktop machines and Android devices. Have an iPad mini handy? Have a peek at how it performs and see how well this much higher-definition device does against it. Fight!
We'll be rolling out with a full-on Nexus 7 2013 Review sooner than later, stick around for the full bit of action in our Nexus 7 tag portal and/or our Android hub, right this minute!